Samsung Galaxy S4 – The best phone in the world?
Is the Samsung Galaxy S4 the best phone in the world right now? According to many of the leading tech sites, the answer would be a resounding "yes".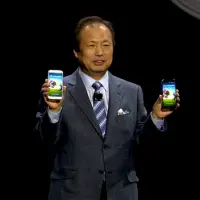 Last night marked the slightly cringeworthy "unpacking" of the Samsung Galaxy S4 at Radio City, New York. While President and Head of IT and Mobile Communication, JK Shin, might not win any awards for his public speaking, his new flagship smartphone is likely to win plenty of awards for the world's best smartphone.
Samsung is the master of the smartphone universe right now and last night Samsung went well and truly on the offensive with a dizzying array of new features (and fripperies). Here is a short list of them:
– Smart Pause – Move your head away from the screen and the video you're watching will pause
– Dual Camera – Take a photo of some friends and use the phone's front camera to insert yourself in the shot
– Eraser – Remove an unwanted person from your photos
– S Health – Temperature and humidity detection, pedometer, diet tracking and a host of other fitness and health related features
– Smart Scroll – Tilt your phone to scroll pages
– Sound and Shot – Take pictures and attach an associated sound clip
– Drama Shot – Take up to 100 shots in 4 seconds, and select some to create a collage
– Air Gesture – Wave your hands above the phone screen to move around the screen
– Speech to text – Translate languages from speech to text without needing an internet connection
– Eye Tracking – Scroll up and down pages by simply moving your eye
And if you're technically inclined, then here are a few of the specs:
– 5 inch Full HD Super AMOLED, 1920 x 1080 pixel, 441pi screen
– Android 4.2.2
– 1.9Ghz Qualcomm Snapdragon 600 Quad-core processor (or Octocore, depending on your region)
– 13Mb read camera / 2Mb front camera
– NFC, LTE, MicroSd, Bluetooth 4.0, Infrared
– 2,600 mHa battery
– 7.9mm thick (or thin the case might be) and only 130 grams
And the list goes on…
Most big name tech blogs have been quick to put together comparisons such as iPhone vs Galaxy S4 vs HTC One vs Blackberry Z10 vs Nokia Lumia 920. On every single one of these, or variation thereof, the Galaxy S4 trumps the other phones on pretty much every measurement: larger screen, bigger battery, greater connectivity and so on.
Obviously this will only be the case until the other manufacturers release their "next big thing", but we can't remember a phone being released that was so far ahead of the competition.
Admittedly the Galaxy S4 hasn't hit shelves and may indeed ship with design flaws, bugs, teething problems and battery drainitis (we've just coined that term); but Samsung is a goliath in the technology world right now and one assumes their quality assurance is as streamlined as each one of their other business divisions.
Is the Samsung Galaxy S4 the best phone in the world right now? If measured by features alone, then probably yes. If measured by hype, then they're pretty close to the mania that Apple's iPhone conjures up their faithful. If measured by sales, then only time will tell, but with forecast shipping volumes of 10 million per month, Samsung is likely to take the cake there too.
It is easy to get carried away with the hype, but with every second one of your iPhone crazed friends moving to Samsung, their momentum seems unstoppable right now. But then again, this is the tech industry and we all know speed at which giants fall out of the limelight. Here's looking at you Nokia…HTC…Motorola.
4 responses to "Samsung Galaxy S4 – The best phone in the world?"
---