Nokia announces the Lumia 800 and Lumia 710
Nokia has used their Nokia World 2011 event in London to announce two new smartphones: the flagship Nokia Lumia 800 and its sibling, the Lumia 710.




Nokia's CEO, Stephen Elop, used the annual Nokia World event to talk up the new devices against the backdrop of Nokia's steadily declining market share. The Finnish phone giant has fallen from being the world's top manufacturers of smartphones to playing a game of catch-up with the likes of Apple, Samsung and HTC.
Earlier this year Nokia began their fight-back and entered a new era by joining Microsoft to push the widely acclaimed Windows Phone operating system. The two Lumia smartphones will be the first to run this operating system. Furthermore, the Lumia 800 and Lumia 710 will ship with the recent Windows Phone 7.5 "Mango" update, which boasts hundreds of new features and updates over the original Windows Phone OS.
The Lumia 800's design closely resembles the Nokia N9 (which actually runs a one-off operating system called MeeGo) and comes in cyan, magenta and black. The Lumia 710 is aimed at a cheaper price-point, while retaining most of the Lumia 800's hardware. The Lumia 710 contains a better camera, sports replaceable back covers and is available, as standard, in white or black.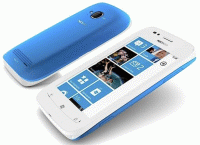 In order to gain a competitive advantage over other Windows Phone manufacturers, Nokia has also announced two new services exclusively for their Windows Phone devices: Nokia Drive, a new navigation app and Nokia MixRadio which provides access to 100 free streaming radio stations. Nokia also announced a collaboration with Monster to produce a range of co-branded accessories, including designer headsets.
It remains to be seen how the new Nokia Lumia phones will succeed in a market that already contains several Windows Phone Mango devices, however Nokia does have a strong advantage in terms of brand, marketing power and their reputation for top quality hardware with high attention to detail.
The specifications for the Lumia 800 and 710 are as follows:
Nokia Lumia 800 – 1.4Ghz Qualcomm processor, 16Gb internal memory, 3.7" AMOLED screen, 8 megapixel, 1280×720 Carl Zeiss camera, 512Mb RAM, 1450mAh battery, weighing in at 142 grams.
Nokia Lumia 710 – 1.4Ghz Qualcomm processor, 8Gb internal memory, AMOLED 3.7" screen, 5 megapixel, 2596×1460 Carl Zeiss camera, 512Mb RAM, 1300 mAh battery, weighing in at 126 grams.
The Lumia 800 is available for pre-order on Three, Orange and Vodafone from Dial a Phone, with the release date set at 16th November. The off-contract price is expected to be £449.95. The Lumia 710 won't be available until the first quarter of 2012 and will be priced around £250.
A US release date has not yet been announced and no 4G LTE version has been discussed as yet. It is understood this is a conscious decision as Nokia has a relatively small market share in the US, therefore they are focusing on their core markets initially.
One response to "Nokia announces the Lumia 800 and Lumia 710"
---