Intel partners with Lenovo and Motorola Mobility; announces the Lenovo K800
Intel has at long last entered the smartphone processor market which is currently dominated by Britain's ARM, with its Atom Medfield processor.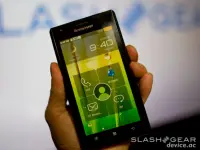 At the Consumer Electronics Show (CES) in Las Vegas this week, Intel chief executive, Paul Otellini demonstrated the K800 smartphone, made by Chinese PC Maker Lenovo. The Lenovo K800 uses a variation of Intel's low-powered Atom processor, called the Atom Z2460 Medfield. The processor was previously used in netbooks, but has been redesigned for smartphones, allowing a mix of high powered graphics, processing power and low battery drain.
The smartphone specs are impressive. The phone comes with a 1.6GHz dual-core Intel Medfield processor, 1Gb RAM, 4.5 inch 720p display, 8 megapixel rear camera capable of 1080p 30fps video recording, and surprisingly, a 5 megapixel camera on the front. It will run on Android 2.3.7, but with a completely custom user interface similar to the UI found on Lenovo dual-core tablets. To power all this technology, the smartphone will include a massive 1890 mAh battery which should easily survive a whole day without charging.
Until recently, Intel has been unable to compete with ARM due to their processors being too power hungry, however the 2011 acquisition of a company specifically focused on low-power processors has changed that.
Intel has also entered into a partnership with Motorola Mobility which was acquired by Google last year (although this is still subject to regulatory approval). Sanjay Jha, the chief executive of Motorola Mobility, explained that their partnership would create a "multi-year, multi-device" and the first devices would be released this summer.
Dave Whalen, a vice-president in the Intel Architecture Group, mirrored Motorola's words explaining: "It is a multi-year, multi-product strategy that will bring both phones and tablets to the (US) marketplace starting with a phone in the second half of 2012", referring to the K800.
The release date for the Lenovo K800 has been stated as Q2 2012 on China's Unicom network.
---