Music Production and Editing Via a New Generation of Smartphones
Technology has come a long way in shaping life as we know it today, and 21st century musicians are now able to create, edit, produce and share their tunes with the world in ways never before seen.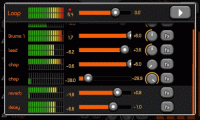 Often called "new media musicians", they utilise their handy smartphones apps for a variety of music production tasks that were previously confined to the studio and now they can easily record, edit and upload their music for millions of listeners while on the go. Here we take a look at four of the most popular smartphone apps for musicians of the digital age.
1. PocketBand Lite by SoundBits (Android) – Allows the user to produce quality music tracks using drum sounds, loop sequences, synthesising mixers and audio recordings through cloud-based internet technology. Music and sounds created can be exported to mp3 players or used as custom ringtones.
Price: Free. The PocketBand Pro App can be purchased for £6.29.
App Features:
– A 12-channel sound mixer with special effects like delay, chorus, reverb, distortion, etc.
– Polyphonic synthesiser featuring the sounds of 125 instruments
– A drum machine with sounds unique to 35 different drum kits
– Built-in microphone for live voice recordings
– Custom music sampler to create unique synthesised instruments
– Arpeggiator and modulator for synthesising and creating new patterns via algorithms
2. Droid DJ Lite by Spartacus Rex (Android) – Create custom works of musical art with twin pitch-enabled, cross-fading visual mixing decks that can load two songs at once. Allows users to experiment with songs' speed, pitch and tone for an electronic playlist that is only limited by their imaginations.
Price: Free. The full version of Droid DJ can be purchased for £2.52. Updates for future versions, which are rumoured to include both modern and vintage sound mixers, will be available for winter 2012.
App Features:
– Automatic pitch settings
– BPM counters
– Compatible with the Radio RIP app for Android
– Provides visual control for each song's effects on both mixer decks
3. BeatMaker 2 by INTUA (iOS) – A complete mobile music studio that allows users to compose, arrange and mould each song to suit their fancy, either saving it their iPods or sharing it with others.
Price: £13.99
App Features:
– Drum machine with 128 trigger pads and 68 pre-sets
– Studio with 10 effects and 3 effect slots per instrument
– Keyboard sampler a 128-key keyboard and 111 pre-sets
– Realistic, multi-track mixer console
– The Chop Lab, where audio sound bites and loops can be spliced together for unique creations
– Extensive sound control parameters
– Users can import live sounds or even songs from their iPod libraries to use in the synth mixers
– Can connect to MIDI accessories for external control of instruments and effects during live performances
4. RD3 – Groovebox by MIKROSONIC (Android) – A multi-touch enabled app specialising in analogue synthesisers and drum machines for a retro electronic dance vibe. The interface is easy to navigate and can be used by everyone from veteran musicians to complete beginners.
Price: £1.57. The HD version of RD3 – Groovebox is available for £3.15.
App Features:
– Analogue synthesiser, similar to the 303 synthesiser
– Triple waveforms
– Drum machine with sounds from 8 different drum kits
– Solo, loop and random play modes
– Multi-touch control panel
---