Screen Protector Guide
Index
Introduction


A screen protector is first thing you should buy upon receiving your expensive new phone. In fact we recommend buying one even before it even arrives so it's ready to apply to your screen as soon as your phone is out of the box. There's nothing worse than starting an 18 month phone contract, getting a nasty scratch on the screen and having to put up with it for the rest of the contract. Furthermore, you should also keep in mind that as screen sizes increase - so does the potential for scratches.

While this guide is written for phones, it applies just as easily to tablets, laptops, mp3 players and digital cameras – any device that has a screen really. In fact it can often work out cheaper to buy multiple products at the same time, so have a think about what other gadgets you should be protecting.

This guide is the culmination of personal experience over many years of gadget use, first-hand testimonials and a solid week's worth of research on the internet. Hopefully this will save you some tedious research of your own trawling through the myriad options out there in the market.

There are literally hundreds of screen protectors available and while you can buy many of them for pennies, this guide has chosen to evaluate the key brands and the best protectors, not the cheapest (although they all represent great value for money and are all competitive companies). Keep in mind the fact that your device is probably worth several hundred dollars (or pounds or euros), therefore money spent on a quality protector is a good investment.

Now let's get started...



Types of screen protectors


The first decision you need to make is whether glare is an issue for you. If you will be using your phone outside or in brightly lit environments, then you should consider an anti-glare (AG) protector. These can reduce overall screen visibility when not in sunlight however, so think about whether you will be using your phone in bright places and for how much of the time. You can then choose between AG and non-AG (standard) protectors.

In addition to AG and non-AG anti-glare protectors, there are two other types you may want to consider. These are
mirror protectors
and
privacy protectors
. The following is a more detailed summary of these four types:


Standard / Crystal Clear Screen Protectors
The standard type of screen protector is designed to be as invisible as possible so that the clarity of your screen is maximised. When looking at them they will appear very transparent.
Clear screen protectors are usually a bit thinner others (anti-glare ones for example) and their surface is usually shiny or smooth, meaning your finger does not 'stick' when moving across the screen. This is useful on touchscreen phones where you ideally want your finger to glide across the screen as effortlessly as possible.
On the downside, they don't tend to reduce glare very much in direct sunlight. Also fingerprints can be more visible than with other protectors.
Anti-glare (AG) Screen Protectors
These protectors are designed to diffuse sunlight or artificial light so that your shiny screen doesn't reflect light back into your eyes. Such screen protectors will often appear with a matt or frosty finish and under a microscope will contain small grooves.
Their primary purpose is to ensure your screen is readable or viewable in direct light, but they have the added bonus of reducing fingerprints and smudges to some degree.
On the downside, the matt finish can appear a bit fuzzy and can reduce the clarity of your screen slightly. Also, these protectors are usually a little bit thicker than other ones and the surface can be a little rough, meaning your finger won't slide as easily over the screen.
If, however, you use your phone outside the majority of the time, then these protectors would be your best choice.
Mirror Screen Protectors
Mirror protector are designed to turn your phone screen into a mirror when the screen isn't lit up – great for quickly checking your hair or makeup when out and about. The downside is that they can create quite a bit of glare and can mean the colours of your screen may not be as vibrant as they should be.
They are more suited to people who use their phone primarily for calling or texting. If you look at photos or watch videos with a mirror protector, they can be a bit harder to see, depending on the light conditions.
Privacy Screen Protector
These are designed so that the screen content is only visible when looking at it straight-on. If the phone is tilted at an angle then the contents of the screen becomes masked. The purpose of this is to conceal the contents of the screen to prying eyes or people peering over your shoulder.
They are especially useful for business users who may be reading or writing confidential emails, or to anyone who is conscious of their personal privacy.
Things to look out for


If possible, we recommend protectors that are laser cut to the exact dimensions of your phone's screen. If your phone has a proximity sensor or front-camera, try to buy a protector that is pre-cut so these parts are not covered.

There are some good brands that do not laser cut however (NuShield AG is an example - see below), but just make sure they come with detailed instructions and tools so you can create the desired size and shape.

Some protectors also allow you to remove them, wash them and re-apply. We recommend avoiding these. Their adhesive abilities are usually not great and the edges can peel off fast.

Also, try to avoid screen protectors that come in packs of 5, 10 or 20. These often won't last very long and you will have to go through the process of installing them on a regular basis




Where to buy – North American Users


If superior protection is your key consideration, then
Zagg's InvisibleSHIELD
are a great choice. They are pretty much impenetrable and on their homepage they have a neat video of a power drill attacking a phone screen, with the screen escaping completely unscathed. Their protectors, which have sold over 20 million since 2005, also carry a lifetime warranty.

InvisibleSHIELDs are available as front-only, back-only or full coverage protectors. The full coverage product will fit around your whole phone, won't leave air bubbles and the edges are less likely to peel than with other protectors. You will receive a number of little cut-outs and while the installation can be tricky, they come with great instructions and all the equipment you will need. Having said this, the front-only protector is quite adequate if it's just the screen you want protected.

The rubber that Zagg uses has a slightly rubbery feel, which also means the phone is less likely to slip in your hands. It does mean that your finger will drag a little on the screen however, so if you're looking for a really shiny surface, then you might want to consider another brand. Also, they are quite thick so if your device's screen is resistive (i.e. you can use a stylus or glove) then they can reduce the screen sensitivity. Most phones have capacitive screens these days, so this is less of an issue.

Zagg's InvisibleSHIELD are by far the market leader, so if you just want a standard screen protector to deter all scratches, they are very safe bet.


Price:

$14.99 for front coverage or $24.99 for full body coverage


Delivery:

Free shipping on orders over $24.98




BodyGuardz
were founded in 2002, are committed to offering top quality products at reasonable prices and their mission is 'to protect the devices they serve'. In recent years they have won an array of awards including the following: ZDNet - Best Mobile Phone Accessory, iLounge.com – best of the year, Buy Me An iPhone.com – Editor's choice, Berryreview.com – Editor's Choice Award, PC World – must have accessory for your phone.

Their strength is in the diverse range of quality products they supply, meaning they have a protector to suit every type of user. They also offer a 'lifetime replacements' program allowing you to replace your protectors for forever at a very low price. Their range consists of the following products:


ScreenGuardz – Classic – Their ultra-thin crystal clear screen protector which offers great protection while retaining screen visibility. They come in packs of 5 and should last 1-3 months so if you want a simple, cheap protector these are a good option
ScreenGuardz – Ultra Tough Clear – These are a much better option if you want superior protection and a longer lasting protector. They come in packs of 2 and are eligible for BodyGuardz's 'lifetime replacements' program
ScreenGuardz – HD Anti-Glare – These are an ultra-thin protector which combines premium scratch protection with an anti-glare layer. A great choice if you're using your phone in direct or artificial light
ScreenGuardz – Privacy – As well as being scratch resistant, these offer 4-direction privacy protection so no-one can see your screen while you are using your device. When viewing straight-on these protectors are crystal clear
Clear Skins – These are an all-round covering for your phone. The product consists of a number of little strips that are applied to the back, front and sides of your phone. They are crystal clear, super-thin and made from the same material that protects the front of cars from rocks and roadside debris
Armor – Is a like a skin that comes in various textures and patterns. They not only protect your device from scratches and bumps, but look stylish too. They also come with a free ScreenGuardz protector to provide all-over coverage
Armor Carbon Fibre – These are the same as their Armor product, but with a metallic / carbon fibre looking design
Ciderz – These are four sided rubber or plastic bands that wrap around the sides of your phone. They come in a stylish range of colors and are designed to prevent signal loss if your hand is covering your phone's antennae
Shelter – These are only available for iPhones and consist of a box-like housing that you place your phone into, with holes for the camera and buttons. Shelter is designed to protect your phone from drops or heavy knocks
Pricing:

Start at $9.95 for their ScreenGuardz Classic


Delivery:

Free for orders over $24.95 via UPS Mail Innovations





NuShield
have been in business since 1998 and while their website may look a bit dated, they are a trusted brand with global operations including contracts with the US military to screen protect sensitive equipment on the battlefield. They not only supply the usual protectors for tablets, laptops and digital cameras but also for televisions, projector films, marine, aviation and other industrial applications.

Their key product is the NuShield DayVue which is an anti-glare / anti-reflective screen protector. This patented technology actually cancels light rather than simply scattering it, providing a significant improvement over standard anti-glare protectors. If you will be using your device outside in direct sunlight or in bright environments, they really are a superb choice. They also appear a lot less 'frosty' than other anti-glare protectors.

The DayVue contains 4 protective layers, yet they are only 0.005" thick making them a good combination of flexibility and strength. Their only drawback is that writing on the screen isn't entirely smooth, but this is a typical compromise for anti-glare protectors.

Please note that they don't lazer cut for many of the latest smartphones. Instead they offer a DayVue 'Cut to Fit' kit. The kit comes with all the instructions and equipment necessary to create the perfect protector for your device however.


Price:

2 for $15.00 (custom cut or DayVue kits)


Delivery:

$3.08 for USPS First-class international


Where to buy – UK and European Users


Compared to the North American market, The UK and European market has a limited range of companies that sell screen protectors directly to the public. Despite this, we have scoured the market and located the best protectors to suit your needs and the best place to buy them from: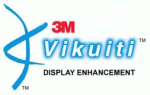 Vikuiti
, a 3M brand, is probably the best value protector available in the UK / European market. They are hard coated, scratch proof, allow bubble free installation and every protector is laser cut and custom made to fit around any buttons, sensors, microphone or speaker holes.

The protectors cannot be purchased directly from 3M, so the best place to buy them is through a reseller on Amazon.co.uk (see direct product link below)

Their range consists of three types of protectors depending on your needs and are all great value:

DQC-160 – These are Vikuiti's standard crystal clear protectors which also have anti-static properties, meaning they will not attract dust particles like some protectors do. They also repel dirt and provide residue-free removal
ADQC27 – If you intend to use your device frequently in direct light, then these are a rare combination of crystal-clear and anti-glare meaning that you get the best possible screen clarity away from direct light and high visibility in direct light. They are also dirt repellent which is useful, as many clear protectors attract smudges and fingerprints easily
CV8 – If you are a power user and tend to take your phone out of your pocket or bag frequently, then these are high-adhesive strength protectors, meaning the protector won't peel off around the edges. They are also ultra clear and despite their adhesiveness, they still allow residue free removal
Price:

Start at around £5.00


Delivery:

Free shipping on most protectors


Note: the link above will display the entire Vikuiti range. When you reach the Amazon website, enter your phone make and model into the search box to find the specific protector for your phone






Mobile Fun
is the UK's leading online retailer for everything mobile, offering over 7,000 accessories including a great range of screen protectors.

They were ranked one of the fastest growing technology companies in the UK and have won numerous awards, most recently the Mobile News Awards - Best Online Retailer winner 2011.

They don't manufacture screen protectors, but to do sell a range to suit most phone users. Here is a quick list of the best in each product category:

Martin Fields – If you're prepared to pay a little more than the Vikuiti protectors, these Japanese made protectors are the one of the best quality you can buy. They are crystal clear, won't reduce screen clarity and screen colours look almost exactly as would without a protector
MFX Mirror – If you want to turn your phone into a mirror when the screen is off, then these are prefect. They do reduce the screen clarity, however, so they probably aren't best if you watch videos or browse the web frequently on your device
MFX Privacy – These are designed so that if you tilt your phone at an angle, the contents of the screen will appear black. These are perfect if you don't want prying eyes to see what you're doing on your phone. They will make the screen appear darker than other protectors, but you can adjust your screen brightness to compensate for this
Zagg InvisibleShiled – if you are looking for America's best-selling Zagg InvisibleSHIELD (as discussed above) then Mobile Fun also sell these in the UK and Europe
Price:

Start at around £5


Delivery:

£2.50 for Royal Mail 1st Class or £3.50 for EU countries


Note: After clicking the link above, select your phone Manufacturer on the left-hand menu to filter for your device






If you are looking specifically for anti-glare (AG) screen protectors, then
NuShield protectors
(as discussed above) are also available for delivery in the UK and Europe.



How to install your screen protector
What you will need:


- Plastic credit or debit card
- Lint-free cloth
- A small bowl (optional)
- Rubbing alcohol or pure alcohol (optional)
- Rubber / surgical gloves (optional)


The process
Prepare your work area

Firstly, choose an area as free of dust as possible. Close all windows near your work surface and stay away from pets and other household members who may stir up dust particles in the air. Some people even recommend performing the installation in a bathroom after running a hot shower for a few minutes, as the steam will pull down any dust particles.

Also, ensure the light is good so that any dust particles that do fall on the screen, are visible and can be removed promptly.


Clean your hands

Next, wash your hands using soap and water. After this you can also dip your fingers into some rubbing alcohol to remove the oil from your fingertips. Alternatively you can use latex or rubber gloves. Gloves for medical use are ideal, but dish-washing gloves are fine - although make sure they are not too thick or you will find it hard to handle the protector.


Clean your screen

Then get a lint-free cloth or pure cotton cloth. Often your phone or a digital camera will come with such a cloth, but any cloth will do. Dip the cloth lightly into the alcohol and give your phone's screen a good wipe, making sure you remove every single dust particle. Alcohol isn't strictly necessary, but will help wipe away any dirt and dust.


Apply protector

Now, get the screen protector and read the instructions. Some protectors can be placed on the screen and then repositioned if necessary. Others must be applied correctly the first time. The best way to apply the protector is to place the first couple of millimetres on one end of the phone. Then, with a credit card, slowly scrape the protector from that end to the other end, being sure to work any air bubbles to the side with the credit card. Ideally you should start at the end with any holes, buttons or sensors, as these are usually the trickiest to line up with the protector.

The key is to move quickly, but carefully. The slower you apply the protector, the more chance the screen will build up static electricity and attract dust particles. Don't go so fast that you make mistakes though.

Be very careful not to touch the adhesive surface of the protector or the phone screen. This will create finger marks which can be difficult to remove and may mean repeating the whole process again.

After the protector has been completely applied and the bubbles worked to the edges, you may still get the odd small bubble around the protector's edge. If these appear, push down hard on them with your finger for 30-60 seconds and the protector should eventually adhere to the screen.







Feedback is welcome via our
Contact Us
page



---
---