Uifit PadPivot Review
Today we're reviewing the Uifit PadPivot which was recently given to us by the team at Lovecases.co.uk.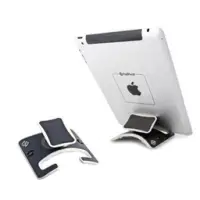 Upon opening the package, the PadPivot doesn't look like much and in fact it wasn't until we played with it for awhile that we realised the full range of benefits it provides.
To keep things quick and simple, we've summarised the key benefits in three sections, as follows:
Portability
The PadPivot can be folded in half by simply bending the outer edges towards the centre of the product. This means the width of the product is small enough to fit in to all but the smallest of pockets. Furthermore, the pad section that sticks to your tablet can be unscrewed from the main section making it even more portable.
Overall the product's design is very minimal and functional, and consists of only four parts:
1 A main / base part that sits on a table, your lap, your leg etc
2 A pad part that sticks to your tablet
3 A swivel ball part that attaches the base to the pad
4 A circular screw that connects and tightens the base to the pad
It wouldn't normally be necessary to detach all of these sections, but it is quick and simple to do if necessary, for storage in very small spaces.
Watching on your lap / curved surface
The base section of the product is designed with an elegant curve which can be rested over part of your leg, such as your calf or thigh, or a chair/sofa arm. Your tablet then sticks to the pad section and this can be swivelled according to your viewing angle. The screw section can also be adjusted to get the desired stiffness to support your viewing device.
Be aware though that the product itself won't "stick" to your leg, so it pays to be careful so your tablet doesn't fall off your leg onto the floor. Having said that, it is possible to move the PadPivot around to a very surprising degree while the tablet stays firmly in place.
Watching on a table
When the curved base is folded out, it can also be laid on a table or flat surface so that it forms a small arch. A cut-away section then allows your tablet to be rested on the base with the pad section forming the back rest.
In this form the PadPivot is very stable and your tablet can either be positioned in landscape or portrait mode for flexible viewing.
In summary, the PadPivot's design really is beautiful in it's simplicity and however you use it, it is a great little purchase that won't break the bank. Lovecases.co.uk are currently offering a reduced price on the PadPivot and they also have a great range of accessories for all the latest devices such as the HTC One and the Samsung Galaxy S4
---