Veho SAEM VBC-001 Bluetooth Handsfree Car Kit Review
The kind folks over at Lovecases.co.uk recently sent us the Veho SAEM VBC-001 Bluetooth Handsfree Car Kit to play with.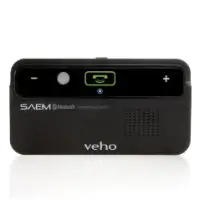 Veho might be a relatively unknown brand, however this UK based company, which was founded in 2006, produces some quite nifty products such as speakers, video cameras, earphones and much more. Their aim is to make products which "stand out from the crowd" and the Veho Handsfree Car Kit is certainly a product that stands out from other Bluetooth handsfree kits.
Features
The stand out feature of this particular product is the SAEM's Automated Motion Sensor (AMS) which automatically powers up the device when you enter your car. The same system also powers down the device upon exit providing an incredible 32 hours of talk time, 66 days of standby time and 2 years in sleep mode.
This feature in itself is a pretty key selling point, however it also comes with a great range of other features, such as the ability to pair up to 8 phones, 2 of which can be paired simultaneously. The SAEM also communicates with paired device up to 10 metres away, which is more than enough for most users. Furthermore, it provides an automatic volume control to provide great clarity of calling and voice activated dialing if your phone supports this.
Setup
A note of caution – when unboxing the SAEM, be careful not to throw away the metal clip that looks very much like the type of clip that is used to hang products from shop shelving. The clip is actually what holds the device to your sun visor, so don't throw it away by accident like we nearly did! Once in place, the device's motion sensor will scan for people inside the car, but be aware that if your sun visor is down (i.e. blocking sun glare), the sensor will be covered and the device won't work; although this won't occur very often for most users.
The pairing process was very simple. Simply turn the device on and it enters pairing mode (the blue LED is continuously on). Then on your phone, simply enable Bluetooth and the phone should find the SAEM. For future pairing, you would simply press and hold the main button for 6 seconds to go through the same process.
To answer a call, simply press the main button to talk to your caller. And to make a call, simple dial up a contact on your phone and press the send button – the device picks up your call automatically. If your phone is a modern smartphone and supports voice dialing, then this feature can also be enabled, although this did take a couple of reads of the manual and a hunt around the phone's settings to figure out.
Performance
The quality of the microphone seemed more than adequate and the speaker clarity was very good. For a test, we asked a person on the other end of the phone what the call quality was like and they replied that it was noticeable that they were on speaker, but had no problems whatsoever with call quality.
Performance wise, when powering up the device on, it does take a couple of seconds to start working, although this isn't really a problem unless you're in a big hurry. In terms of battery life, after a few weeks and many uses, the device has still not run out of power, however it can be simply be charged via mini (not micro unfortunately) USB via your laptop or computer, meaning no messing about with batteries or a proper charger.
Summary
In summary, the Veho SAEM represents great value, comes with a great set of features and provides incredible battery life. The device doesn't get much more simple to use and offers several advanced features if you want to spend time learning about them. Head over to lovecases.co.uk to get your hands on one now.
---