Which of HTC's New One Line-Up Most Excites You?
With HTC's announcement of a new range of handsets at the latest Mobile World Congress, which took place at the beginning of March, we're beginning to wonder which horse to back.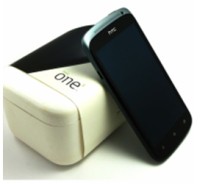 The One range consists of the budget model – HTC One V – the mid-range HTC One S, and the high-end HTC One X. All of the phones target different price points and have very different specs, though they're all tied together by sleek, smooth design and a good balance of power and performance. So which one do you think is set to be this summer's hottest handset?
The HTC One X, despite being the most powerful of the three, is probably not going to appeal to the mass market. If you're thinking of purchasing the One X, it's going to cost you a bomb, and it's also a pretty hefty device at 130g. Quad-core power is impressive, but unnecessary for most users as it's enough to power a small computer. The HTC One X is mostly going to make its mark with hardcore smartphoners who want to get their hands on the cream of the crop, regardless of whether they really need it.
Next up is the HTC One V, the manufacturer's latest budget model. For a budget phone, the One V is actually pretty good, packing in a 1GHz processor and a 3.7-inch touchscreen. However, it'll probably set you back a little more than most budget models – such as the likes of Samsung's Galaxy Mini, Ace and Pocket series – which means it, like the One X, is settling into another niche market all of its own. The HTC One V will appeal to users looking for a more affordable handset, but willing to splash a little extra cash for slightly better performance. We suspect the V will be popular, but not quite enough to compete with…
That's right – the HTC One S is our bet for the best-selling handset from HTC's latest line-up. It's a classic example of the Goldilocks Principle; one is too big, one is too small, but this one is just right. The HTC One S actually includes mostly the same features as its more expensive counterpart, including an 8MP camera, and it runs on Ice Cream Sandwich. Rather than four cores, it only includes two, but most sensible consumers won't see this as much of a flaw; it only means your handset won't be guzzling up its battery at a rate of knots. It's also considerably slimmer, at 119g and with a 4.3-inch touchscreen compared to the X's 4.7-inch display.
If you've got your eyes on the One X or the One V, don't worry – they're still excellent phones; we just suspect that the HTC One S's well-balanced specs will prove to be a significant pull for bargain-hunters everywhere. After all, it packs even more power than the current iPhone 4S – and whoever complained about that being too slow?
---