Our quick and dirty Apple iPhone 5 vs. Samsung Galaxy S3 comparison
The long awaited and much rumoured iPhone 5 has been released to the world and this blogger can't help but feel a little under whelmed by the whole thing.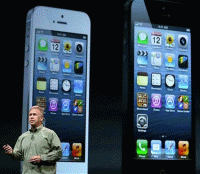 Apple was expected to pull a rabbit out of the hat with this release for a number of reasons.
Firstly, Apple have the luxury of focusing their mammoth resources on one single smartphone and they have had all the time and money in the world to make a jolly big splash.
On top of that, Samsung's Galaxy S2 and S3 smartphones have slowly but surely started taking chunks out of Apple's existing user base. I'm sure we all know someone who originally bought an iPhone because they were pretty, easy to use and everyone else had one. But having lived in the smartphone world for a few years, is ready to tackle a more flexible and powerful OS like Android.
Another reason is that Apple was actually expected to launch their iPhone 5 a year ago, but instead opted for a filler product in the form of the iPhone 4S. Admittedly this was a great device and a much needed improvement, but there are now several phones on the market that have bigger screens, better screens, bigger batteries, better cameras, and the list goes on.
Lastly, the Android operating system in general is growing at a phenomenal rate. Google have recently announced that they activate a staggering 1.3 million Android phones PER DAY! On top of that Android has leapt ahead of iOS with 68% market share vs. Apple iOS's 17%.
So this was a big day for Apple. And a critical product launch. So without further ado, let's make a straight comparison with the other best-selling phone on the market: the Samsung Galaxy S3.
Apple iPhone 5
Samsung Galaxy S3
Weight
112g
133g
Dimensions
123.8 x 58.6 x 7.6mm
137 x 71 x 8.6mm
Screen Size
4 inch

IPS LCD Retina

4.8 inch super AMOLED HD with Gorilla Glass 2
Resolution

1136 x 640 pixels at 326 pixels per inch (PPI)

1280 x 720 pixels at

306 pixels-per-inch (PPI)

Processor
Apple A6 which is 2 x faster than the iPhone 4S (speed unknown)
1.4GHz, quad-core (Snapdragon for the LTE version)
Internal Storage

16Gb, 32Gb and 64Gb variations

16Gb, 32Gb and 64Gb (unreleased) variations
External Storage
None
MicroSDXC (up to 64Gb)
RAM
Unknown
1Gb (or 2Gb in some models)
Battery
Size unknown
2,100mAh
Rear Camera
8MP, LED flash, f/2.4
8MP, AF, LED flash, f/2.6
Front Camera
1.2MP
2MP
Video Capture
1080p
1080p
NFC
No
Yes
LTE 4G
Yes
Yes
Bluetooth
v 4.0
v 4.0
OS
iOS 6
Android 4.0 Ice Cream Sandwich
The one thing that stands out in the above comparison, and this isn't breaking news, is that Apple have once again failed to provide details of the iPhone's processor speed, RAM size and battery size. Given that these three things alone are major decision factors when buying a smartphone, one can only conclude that Apple simply can't (or won't) compete with other high-end smartphones on the market.
One might argue that the average user doesn't care about this. And one might be right. But Apple can only continue to pull the wool over our eyes for so long as people become more and more adept at understanding a formerly geeks-only world of tech speak.
And while we're focusing on the negatives, the one thing that might irk long-time fans is Apple's decision to do away with their standard Dock Connector which has used for donkey's years and is compatible with countless useful and popular accessories. This now means that Apple users will need to purchase (and carry) a special adaptor to make these accessories useful. Apple. Why?
But having said all this, the iPhone 5 is still an extremely fine device which looks the part and will fulfil more than most could have dreamed about a couple of years ago. It will do everything and more, and will summon enthusiastic winding queues of the faithful into Apple stores around the world.
What remains to be seen however, is whether the undecided buyer will look at a side-by-side comparisons of the iPhone 5 and the Galaxy S3 and realise that, actually, the Galaxy S3 is simply a better smartphone.
---