Pimp Your Phone
Introduction


We use our phones so much these days that "pimping" (also known as personalising or customising) your phone has become a popular way of expressing yourself. Nowadays there's no need to stick to that boring grey handset when you can give your phone a bit of flair...a bit of pizzazz.

To save you time we've spent hours assessing the market, looking at the latest trends, finding the leading suppliers and we've summarised this all in the form of our "pimping guide". We hope you enjoy reading it and that it's helpful in choosing how you express yourself through your phone.

The ideas below also make the perfect gift for a friend or loved one. If you have a little bit of inside information about their hobbies or interests, why not choose the perfect personalisation for them and show them how much you really care? Great for Christmas or birthday gifts!

Now, on to the guide...




Skins


Skins are by far the most popular type off phone pimping accessory and have taken off massively in recent years. By some estimates, the industry will exceed $5 billion on sales in 2011.

Skins are essentially 'wraps' that are laser cut to fit around the surface of your phone, including holes the for speakers, microphones and sensors. They come in a huge range of colours, designs and textures including vinyl, leather, gel or transparent. Whether your skins are for personal use or to pimp out your office phones, they not only protect your phone, but can really turn heads while you're out and about.

Skins are also available for tablets, e-book readers, laptops, game consoles, digital cameras and even external hard drive enclosures. They don't require any special tools to apply, they are easy to remove and they won't leave any residue on your phone or gadget.

Depending on how much you use your phone (and how careful you are with it), you might want to consider buying more than one at a time. Some retailers below provide bulk-buy discounts to make this quite affordable.



Where to buy – North American Users
(jump to the
UK and European section
)

If you're a
North American user
then, there are three main companies that dominate the market. Here is a quick summary of their products:





Zagg
began way back in 2005 and have become a publicly traded powerhouse, selling more than 20 million of their flagship invisibleSHIELD transparent screen protectors. They have since diversified from screen protectors to skins for tablets, laptops, e-book readers, gaming consoles, digital cameras, Sat Navs and MP3 players.

Their patented technology is famously demonstrated on their homepage by a video of an electric screwdriver attacking an iPhone screen. The video then shows their invisibleSHIELD being removed and the screen is completely untouched and scratch-free.

They offer three skin products:

ZAGGskins – offer the protection of their damage-resistant invisibleSHIELD technology combined with their growing library of hundreds of skin designs. These are some tough skins and sell by the hundreds of thousands
LEATHERskins – are skins made from genuine hand-crafted leather. They are soft, thin and take your personalization to a whole new level. The adhesive used is similar to standard skins, so they won't leave behind any residue on your phone
sportLEATHER – like the LEATHERskins, these are made with real hand-crafted leather, but with designs inspired from various sports like baseball, football and basketball
If you're looking for a trusted market leader and trendsetter, combined with great designs and a quality product, then Zagg certainly fits the bill.


Pricing:

Starts at $19.99 for their ZAGGskins


Delivery:

Free if you spend $29.98 or more (if you also buy a screen protector, you will qualify free delivery)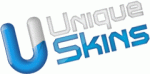 The
Unique Skins
website provides a very simple, but powerful online tool so that you can customize every aspect of your skin. You can use their existing library of designs or upload your own photo. You can then add your own text and rotate, stretch or move to create your own Unique Skin. Their range of existing designs is relatively limited, but their prices are very competitive so if you're mainly looking to design your own skin, then Unique Skins represent the best value.

Their standard skins are patented 3M non-scratch, anti-UV vinyl and are available for phones, tablets, MP3 players, laptops, e-book readers, gaming consoles, Bluetooth headsets, external hard drives and even USB modems.

Their product range consists of the following:

Standard - Premium 3M vinyl skins which are ultra thin, bubble free and leave no residue
Gel Skins - eye-popping skins that give your device a 3D look and offer armor-like protection
Scratch resistant skins - add a protective layer to their standard skins and are almost impossible to scratch. These are great if you protection is your priority
Clear protective skins – they also sell a range of transparent, self-healing, scratch resistant protectors which were originally designed to protect helicopter blades from dust and debris
Wall skins – are made from non-permanent, removable vinyl specially made to adhere to the walls of your house. These range from 24" x 24" right up to 84" x 50"
Pricing:

$6.99 for their standard skins and $19.99 for their scratch resistant skins


Delivery:

Varies, depending on your location and whether you chose FedEx or USPS


CURRENT OFFERS:


- Buy one, get one free
- Get a $10 gift card (for yourself or a friend) when you spend $40 or more


Gelaskins
have been featured on Good Morning America, The Today Show, Wired Magazine, Playboy, Macworld, PC World, Boing Boing, Gizmodo and Engadget.

Their unique selling point is that they work with over 100 artists, plus companies like Marvel, National Geographic, Tokidoki and Colleague Humor to provide over 1,000 unique skin designs.

These stunning, high quality, fine-art prints are then transferred onto patented 3M non-scratch, anti-UV vinyl. The film is bubble free, does not leave behind any residue and, if necessary, can easily be repositioned when applying the skin.

They also provide a custom skin creation tool so that you can upload your own photos or artwork. The images are then applied to the vinyl and cut to the perfect size.

They provide skins for phones, MP3 players, tablets, laptops, e-book readers and gaming consoles.


Pricing:

Most skins are $14.95


Delivery:

Free delivery via USPS or $16 via UPS standard


CURRENT OFFERS:


- Buy 3, get 1 free
- Purchase a GelaSkin and get a GelaScreen screen protector for $7.75 (regular price $12.95)
- Discounts of up to 60% on bulk purchase. Great if you run a business and want to want to brand your phones or gadgets
Where to buy – UK and European Users
UK and European users
– there a few great options for skins in the UK and Europe. Again, we've done the research for you and can recommend the following sites:





Wrappz
are a market leader who provide patented 3M Vinyl skins for phones, iPods, iPads, gaming consoles, laptops, games consoles and even internet hubs

Their designs come from a growing family of artists from around the world making them both unique and exclusive. The company has also designed bespoke skins for fridges, guitars and sporting goods and they boast thousands of images including contemporary urban art, iconic musicians, world flags and catchy slogans.

Their site provides a very simple-to-use tool where you can choose from their gallery or upload your own. You can also add your own text and manipulate all these elements to completely customise your skin.

Their skins are bubble free, scratch resistant, anti-UV, leave no residue and provide great protection from wear and tear.


Price:

Phone skins are £7.99


Delivery:

£2.95 to UK mainland or £4.75 to EU countries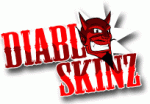 Diablo Skins
also use 3M vinyl skins which are bubble free, scratch resistant, anti-UV, leave no residue and provide great protection from wear and tear.

They provide skins for phones, tablets, laptops and gaming consoles and their range of phones includes most modern smartphones. They don't offer a tool to upload your own images, however their design range is great, with everything from abstract to fractals to science fiction.

Depending on your device, some of their skins also come with a free matching wallpaper for your PC.


Price:

£8.95


Delivery:

£1.75, or free of you spend over £20 (in the UK). £2.20 for all EU countries


SPECIAL OFFER:


Phone Tips and Tricks exclusive: Use the code: DSTIPSANDTRICKS at checkout to get 15% off!

Skin Flips
are another great alternative. They provide skins for phones, tablets, laptops, MP3 players and gaming consoles.

They have a large range of designs which are nicely laid out and they also have an online tool whereby you can upload your own photos and add your own text. It can be a little tricky to use, but persevere and you will get a great custom design.

They also have a great range of simple metallic looking colours if you want your design to be one of understated elegance.


Price:

£12.99 incl VAT


Delivery:

Free if you also buy a screen protector. Otherwise £3.90 to UK and EU countries
Cases


If you're not into the flamboyance of skins, then cases are a great way to not only protect your phone from bumps and scrapes but to give it some style too.

Gone are the days when you had to buy a chunky black case to protect your phone, then hide it away in embarrassment.

Cases can be broken down into a few categories, as follows:


Socks

- rather than real socks, these are little designer socks, or simple slip-pouches, that you can pop your phone into while not in use



Pouches

– are a more professional looking alternative. They are simply a protective pouch to slip your phone into when not in use and they come in a range of designs and materials



Clear transparent cases

– refer to either transparent gel skins, or crystal clear snap-on hard cover cases. If you're looking for protection rather than style, then these are a good option



Flip phone cases

– cover your whole phone and include a flap that lifts up to expose your phone's screen. They usually have cut-out holes for the camera, light sensors, speaker, microphone and any external buttons. The most common material is leather, but they also come faux-leather, fabric, rubber and other synthetic materials



Silicon / gel grip cases

– are made from a gel or silicone rubber. They are designed to protect your phone from impacts but also provide a better grip so that your phone won't fall out of your hand. These can also be useful if your phone suffers from signal problems when held in certain positions


Where can I buy them?


There are literally hundreds of small online retailers and even bespoke designers that supply cases. While there may be the odd gem out there, it can take some digging around to find it!

You could try a Google search for "cell phone cases" or "mobile phone cases", but a far better option is to buy through Amazon who sell on behalf of these smaller suppliers. When you buy through Amazon, you can be sure your payment is secure and you will receive your goods in a timely manner.

For
North American
users - here is a link directly to
Amazon's Phone Cases page
which has a staggering 300,000 cases and covers for your phone. After the page opens, type your phone make and model into the search box to locate cases specific to your phone.

For
UK and European users
- here is the link to
Amazon UK's Phone Cases page
. They list an astonishing 1.1 million cases and covers for phones! Again, once you're on their page simply type in your phone make and model into the search box to search for cases for your phone.

Alternatively, another good source is
Mobilefun
who stock a great range of around 3,000 cases covering all of the categories listed above.


Charms, Danglies and Lanyards

Popularised by Tokyo teens with their Hello Kitty charms, these are usually little dangly objects that are attached to the lanyard hole on your phone. They come in all shapes and sizes to suit your taste.



Where can I buy them?
For North American
users you can search online, but there are dozens, perhaps hundreds of sellers - mostly small and with an unknown reputation and payment system.

Because of this, we recommend you use Amazon, who often sell charms on behalf of smaller sellers. Here is a link through to
Amazon's Charms page
which lists over 9,000 such products. Enter your phone make and model into the search box to refine your search.



For UK and European users
, again, Amazon UK is your best bet for Charms and Danglies. Here is a link to their dedicated
Charms & Danglies page
listing over 35,000 products! Simply visit the page and then enter the name of your phone make and model into the search box at the top.







Feedback is welcome via our
Contact Us
page



---
---