HTC Rezound price and release date announced
At a press conference yesterday, HTC announced an upcoming flagship phone, known as the HTC Rezound; pictured here in striking black with red trim.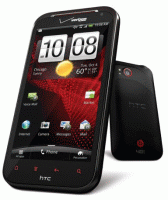 The red trim, incidentally, confirms the phone is part of the tie-up between HTC and Beats by Dr. Dre, first introduced in the HTC Sensation XE.
If you're a keen observer and you're thinking that the spec and black and red design look very similar to the HTC Vigor, then that's because it technically is the HTC Vigor – only renamed the HTC Rezound.
As the name alludes to, the Rezound is pitched as a phone with the very highest sound quality. According to HTC, the Rezound will offer the best possible multimedia experience of any phone. To match the talk with the walk, HTC have drawn upon their recently formed relationship with Dr. Dre's Beats. At the press event, Jimmy Iovine, Chairman of Beats by Dr. Dre explained that as phones have evolved, the quality of the music has degraded. HTC seeks to set this right by focusing on the highest possible quality from their handsets and headphones. "We have to bring the quality back", Iovine explained.
The HTC Rezound will ship with Android 2.3 Gingerbread and HTC Sense 3.5, however HTC have said that the device is Android 4.0 (Ice Cream Sandwich) ready. They also confirm that successor to Android 2.3 will be ready as an over-the-air update in early 2012.
The Rezound will feature a 4.3 inch, 720 pixel HD LCD screen, however it isn't AMOLED. The processor is a 1.5Ghz dual core beast, accompanied by 1Gb RAM, 16Gb of internal storage internal and a 16Gb external SD Card. The camera is 8 megapixels, complete with dual LED flash, 1080 pixel high-definition video recording and slow-mo recording. In an ideal world the phone should get a solid day's worth of use from its beefy 1,620 mAH battery. And last but not least, we can confirm it will ship with a custom pair of Dr. Dre Beats headphones.
In terms of specification, this phone is clearly a top of the range unit and will easily compete with the likes of the Motorola Droid Razr and the Samsung Galaxy Nexus.
The HTC Rezound will be available on Verizon's 4G LTE network from 14th November, on a 2 year contract. The price is expected to be USD$299.00. HTC have not announced details of a European or EMEA release date however.
---