Mixing business and pleasure on the LG Revolution
LG used their LG Revolution smartphone to show off VMware's Horizon Mobile Software which allows users to switch between corporate and personal profiles on the same device.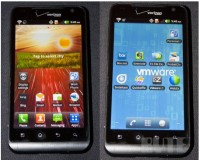 At the Consumer Electronics Show (CES) 2012 Preview Press Event in downtown Manhattan this week, LG used its LG Revolution smartphone to show off a very useful dual-use phone technology. Using VMware's Horizon Mobile software installed on their LG Revolution, the company showed two completely separate instances of Android running on the same phone. This means that users may no longer need to carry separate devices for work and personal use.
James Park, Director, Strategy and Business Development, Enterprise Solutions Team at LG Electronics, explained the phone's capabilities at the media event. The Revolution accomplishes the dual-use system by running a completely virtual version of the 'work' phone, which is stored as an encrypted disk image. The encryption key is stored remotely which means that data is completely inaccessible to an outsider, even if the internal memory is accessed. Furthermore, the phone provides the option to set various corporate security features like PIN number, PIN length, number of tries and even a self destruct function.
The system goes further than simply having two unique versions of the same operating system and even extends to the namespace on the phone carrier. Depending on which carrier you are with, the user can have two separate phone numbers which can each be billed separately. Also, the LTE capabilities of the phone can be made to route calls via an IP-based system while in the office. The switching between work and personal modes is done by simply pressing an icon on the homescreen and the process is both seamless and instantaneous.
According to Park, the system isn't necessarily designed for an IT department to procure and be allocated to staff, but for a staff member to buy the phone for personal use, to then use as a work phone. As we understand it, the LG Revolution was simply being used to demonstrate the technology; therefore it should be possible for it to be used on any Android device, depending on manufacturer and carrier restrictions.
At the event, LG were presented with International 2012 CES Innovations 2011 Design and Engineering Awards Honouree aware for their efforts. Also, in October Verizon Wireless and VMware announced a strategic partnership, which indicates that this type of technology may become commonplace in the near future.
---