Huawei Ascend D Quad: The World's Fastest Phone
Just weeks after revealing the world's thinnest phone, Huawei have now announced what they are calling the world's fastest phone; the Huawei Ascend D Quad.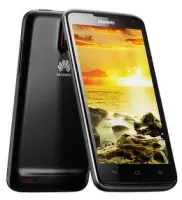 The Chinese infrastructure and smartphone manufacturing giant are taking on the western and eastern smartphone markets head-on with their latest smartphone which will be powered by their very own quad-core processor called the K3V2, running at 1.2GHz. The chip also has 16 GPU cores built-in making it capable of powering through the most heavy duty smartphone Apps and games.
Huawei Chairman Richard Yu explained that the Ascend D Quad is also the most compact phone on the market thanks to its infinity screen design. The screen is in fact a rather impressive 4.5 inch 720p HD display and the phone also comes with Dolby 5.1 surround sound, an 8 megapixel camera with 1080p full HD video capability and a 1.3 megapixel front facing camera with 720p video recording. Huawei also boasted that the screen pixels per inch (PPI) were 330 compared to the iPhone 4S's 326 PPI.
The Ascend D Quad will be complemented by two other phones in the range: the Huawei Ascend D Quad XL, which will come with a 2,500mAh battery and 1.5GHz chip and the Ascend D1 which will be powered by a lesser, 1.5-GHz dual-core TI OMAP4460 processor and a 1,670mAh battery. The Ascend D Quad comes with a 1,800mAh by comparison, which Yu claimed will still provide 30 percent more run time than the average smartphone. Yu also made the bold claim that the D Quad's processor will run 20-30 faster than the Nvidia Tegra 3 chip, however this has not yet been independently tested.
Further talking up the specs of these devices, Huawei boasted excellent outdoor screen quality, especially in direct sunlight, and a dual microphone noise reduction technology dubbed "Audience earSmart", which aims to reduce background noise while talking on the phone in noisy environments.
All three phones will run Android 4.0 Ice Cream Sandwich but unfortunately the phones will not come out in a 4G LTE variation, much to the disappointment of Verizon US customers we predict. However Huawei did say that future incarnations will ship with the technology; possibly in Q3 or Q4 2012.
Pricing is not yet known, however the Ascend D Quad and Ascend D1 will be released in April 2012 throughout China, Europe, Asia-Pacific, Australia, North and South America and the Middle East.
---
---
---
---