Top 3 IPTV Apps For IOS & Android
IPTV is among the latest technologies that have revolutionized our world. With Internet Protocol for Television, or simply IPTV, you can watch any TV show or movie on your mobile screen without any hassle. You have to watch IPTV by installing an app. Needless to mention, there are countless IPTV apps for IOS and Android, but only half of them are good enough. Some apps are just hoaxes set up by hackers in the hopes of sabotaging your data. You have to keep away from the fake apps and find the ones that will truly transform your lifestyle.
Kodi
When it comes to IPTV apps, a lot of people recommend Kodi. Kodi is not so much as an app; it is a media center that lets you access the streaming media content. You can run any content on your mobile phone or laptop if you have Kodi. If you are still confused, navigate here to know more about how you can install IPTV on Kodi.
– Kodi supports a couple of formats, including AAC, MP3, and OGG.
– Kodi lets you stream any content over the internet, and you can add content such as videos, posters or trailers into your account.
– You cannot only stream live TV, but you can also record it!

Genius Stream
Genius Stream is an Android app that lets you watch many online streams for free. You get to watch sports channels, TV shows, and films from different countries.
– The app supports HD so you can watch all your videos in high quality.
– The app streams channels from all around the globe including countries like the US, UK, India, and other European and Asian countries.
– If you are tired of unnecessary subscriptions, this app is for you because there is no registration or membership required.
– The videos run smoothly on any internet connection given that the connection is strong.

Exodus Live TV App
Exodus Live TV App is one of the best IPTV apps you can get for your mobile phones.
– The app has a very easy and fresh interface, so the navigation is fairly easy.
– The app may have some ads, but you can get an ad-free version by paying some money.
– The app streams channels mostly from USA and UK. The channels range from sports channels to entertainment channels.
– There is minimal to no buffering when the internet connection is strong, which is great.
– You can download the application for free, and there is no sign up required. This feature is a breath of fresh air because most of the apps these days need you to register or sign up.
– Users can play the videos in HD quality, so you can get the experience of watching the real TV.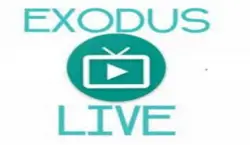 If you have Android or IOS devices, you should try any of the apps mentioned above. Watching IPTV in the comfort of your home has never been easier. With these applications, you can get the experience you have always wanted!
---