The Lumia 920: Nokia's Last Stand
In an attempt to get in before Apple does, Nokia have announced their latest flagship phone in the form of the Nokia Lumia 920, at a media event in New York City.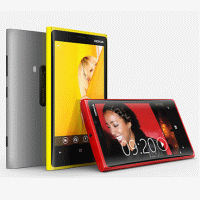 This launch marks a critical point in the future of the Finnish smartphone manufacturer, which is currently considered to be the fallen giant of the tech world.
Nokia's previous range of Lumia smartphones phones have been a modest success, but have also failed to gain anywhere near the market share (currently only 3.7%) required to rescue the company's fortunes.
Therefore the media event yesterday in New York was a last stand of sorts. In order to compete with the juggernaut that is Samsung and the cult of Apple, they needed to pull a rather significant rabbit out of the hat.
Comments so far have been mostly positive, however Nokia's share price is where it matters the most and unfortunately for Nokia this has seen a 15% fall following the launch.
With their new smartphone, Nokia really do have an uphill battle to gain market share against Apple and Samsung. Chief Executive Stephen Elop gave a clue as to their strategy and marketing pitch however, when he said the devices offer "an alternative to the faceless grid of applications – the black and grey monoblocks."
Whether or not enough consumers are tired of those grids and are ready to switch ecosystems is up for debate though.
Details of the Nokia Lumia 920's spec are as follows:
– 1.5GHz Qualcomm Snapdragon S4 processor
– 4.5 inch 1280×768 pixel display
– 8.7 megapixel "PureView" floating lens camera with image stabilisation technology to reduce blurriness in photos
– 32Gb internally memory
– PureMotion HD+ capability
– Wireless charging
– CityLens augmented reality
– 2000mAh battery
– LTE ready
– 185 grams in weight
– Available in bright yellow, red or gray (the 820 will also come in purple)
The event also saw the launch of the Nokia Lumia 820 which is aimed at the mid-market. The Lumia 820 will feature a smaller screen, at 4.3 inches and will not come with the PureView camera. The battery will also be smaller, at 1650mAh and come with a smaller 8Gb internal memory card, however the processor remains the same.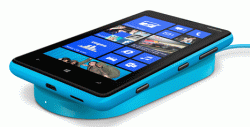 Unfortunately Nokia did not announce which networks would carry the phones, nor what the price points would be. Instead they have said this information will be released on a country by country basis. The Lumia 920's release date is expected to be sometime soon after Windows 8 is launched on 26th October 2012, although this has not been confirmed by Nokia.
---