12 days of Xmas offers with Skinit [UPDATED]
Skinit, the premium Skin maker, are running a 12 Day of Christmas promotion. Every day until 12th December, they announce a great money-saving offer.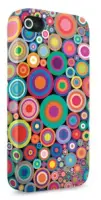 Skins are funky vinyl coverings for smartphones, tablets, eReaders, laptops, games consoles and more. They come in a huge range of artistic designs and provide the perfect way to express yourself.
They also make the the ideal Christmas present. Simply have a think about your friend or loved one's interests and choose a suitable skin for them. If your teenage daughter loves the Twilight Saga, then get her one of the popular Twilight skins. If your son is into baseball, then Skinit have some great college baseball designs.
Here are Skinits offers for the next few days:
Day 8 (8th December): Get 50% Off eBook/Tablet Products
. Use Code: DAY8TAB50 (Excludes Neoprene)
Day 9 (9th December): Buy Any Hello Kitty Item
& Get a FREE Pair of Earbuds. Use code: DAY9HELLOKITTY
UPDATE:  The last three days of offers have been provided to us, as follows:
Day 10 (10th December): Buy Any College Skin & Get a FREE Small Skincard. Use Code: DAY10COLLEGE
Day 11 (11th December): Get 50% Off All Customizable Skins! Use Code: DAY11CUSTOM
Day 12 (12th December): Buy One, Get One FREE! Use Code: DEC12BOGO (excludes Metal/Neoprene)
In addition to the daily offers above, Skinit are also offering the following deals:
Get 15% Off Custom Skins
for Your Phone, Laptop, iPad, iPod, Xbox and More! Use Code: SKINITGIFT15
Get 20% Off All Collegiate Skins
. Use Code: CBS20 (expires 31st December 11).
Free Shipping
on Orders of $30 or More! Use Code: HOLIDAYFS30 (expires 31st December 11).
And lastly, don't forget to check our Christmas Gift Ideas page if you're still stuck for ideas.
One response to "12 days of Xmas offers with Skinit [UPDATED]"
---