Nokia Lumia 710 US release date announced
Nokia is set to release their first Windows Phone device in the United States in the form of the Nokia Lumia 710. The phone will be released through US carrier T-Mobile on 11th January for $49.99.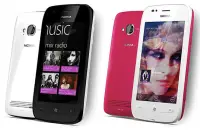 The $49.99 price will after a rebate card has been applied and will be on a two-year Classic voice and data plan. The Nokia Lumia 710 phone represents a concerted effort to target the estimated 150 million Americans who have yet to purchase their first smartphone.
Cole Brodman, chief marketing officer of T-Mobile USA explains: "Windows Phone offers a compelling mobile OS choice for people who want a smartphone built around them, their family and friends." He went on to say "Our research shows nearly everybody in the U.S. wants a smartphone, but many believe they can't afford it."
While priced at the lower end of the price spectrum, the Nokia Lumia 710 comes with some rather impressive specs such as: 4G capability, a 1.4GHz processor, 3.7 LCD inch screen, 5 megapixel 2596×1944 Carl Zeiss camera, 8Gb of internal memory, 1,300 mAh battery and weighs only 126 grams.
It will run the popular Windows Phone 7.5 Mango operating system making it one of the most user friendly phones in the market. The phone provides one-click access to services such as Netflix, T-Mobile TV with mobile HD1, voice activation and Local Scout for locally relevant search results. It also provides access to new Nokia services such as Nokia Drive for voice-guided, turn-by-turn navigation and ESPN for the sports fans out there. Lastly, the Lumia 710 provides a great work / life balance with the inclusion of the Windows Phone Office Hub and an interactive mobile gaming experience via Xbox LIVE.
In terms of the design and physical appearance, the phone does look a little plasticy, however this is intentional, as it has a number of interchangeable back covers in pink, yellow, blue and black.
For those in the UK, there is a small chance the phone will be released in the first week of January 2012 with the Nokia 710 being listed on the website of digital-phone.co.uk. It is not clear whether this is a mistake or whether the website has gained an exclusive deal.
One response to "Nokia Lumia 710 US release date announced"
---