Nokia announces Asha phones + release date
Nokia this week used their Nokia World 2011 event to announce a series of mid-market phones named Asha, aimed at emerging markets.
While Nokia have used the annual event to show off their new Lumia phones, they have also shown their serious committment to emerging markets where they are still the undisputed heavy-weight; especially in Asia and Africa. The name Asha comes from the Hindi word for hope, and Nokia have announced details of four new devices in the family: Asha 200, 201, 300 and 303.
The Asha series of phones will all run Nokia's Symbian Series 40 operating system and are positioned in the space between feature and smartphones; perfect for emerging markets where many of the latest smartphones are unaffordable.
Nokia's CEO, Stephen Elop told the Nokia World audience that they aim to reach the "next billion" users and Asha phones are targeted at "a really young crowd in high-growth, emerging markets who are savvy mobile users". The phones will focus on social networking, internet and information sharing, empowering users in emerging markets who are increasingly connected to the internet through their mobile devices. The phones all come with Nokia Browser which uses the Cloud to compress data by up to 90%, cutting download bandwidth significantly, which a key consideration in emerging countries.
The specifications for the Asha family of phones are as follows:
Asha 200
Comes with Easy Swap hot-swappable Dual SIM
Screen: 2.4"
Camera: 2 megapixel, 4 x digital zoom
Multimedia: FM Radio, 52 hours of music playback, powerful built-in speakers
Memory: 10Mb free + external microSD slot supporting up to 32Gb
Weight: 105 grams.
Colours: Pink, blue, lime green, navy blue, orange, graphite
Other features: Nokia Browser which compresses web content by 90%, customisable homescreens
Price: 60 Euros
Release date: Before the end of 2011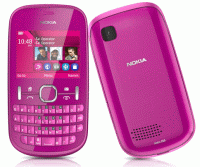 Asha 201
The Asha 201 is the same as the Asha 200, but without the dual SIM feature
Price: 60 Euros
Release date: Quarter 1 2012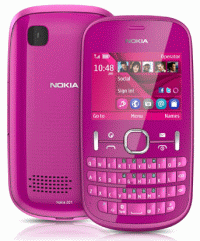 Asha 300
Screen: 2.4"
Input: touchscreen and qwerty keyboard
Processor: 1Ghz processor
Camera: 5 megapixel, 4 x digital zoom camera
Multimedia: FM Radio, powerful built-in speakers
Memory: 140Mb internal + external microSD slot supporting up to 32Gb
Weight: 85 grams
Colours: red, graphite
Other features: Nokia Browser which compresses web content by 90%, customisable homescreens, dedicated message key for quick access to messages, Angry Birds light edition
Price: 85 Euros
Release date: Quarter 4 2011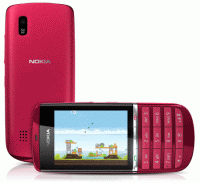 Asha 303
Screen: 2.4"
Input: touchscreen and qwerty keyboard
Processor: 1Ghz processor
Camera: 3.2 megapixel
Connectivity: 3.5G, WiFi, Bluetooth 2.1
Multimedia: FM Radio, powerful built-in speakers, dedicated music key, built-in Shazam
Memory: 100Mb internal + external microSD slot supporting up to 32Gb
Weight: 99 grams
Colours: red, graphite
Other features: Comes with Angry Birds light edition
Price: 115 Euros
Release date: By end of 2011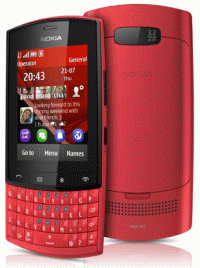 One response to "Nokia announces Asha phones + release date"
---