Best Apps for the London 2012 Olympic Games
Now that the London 2012 Olympics have started, it's time to start following the events. And the best way to do that is with a dedicated App on your smartphone.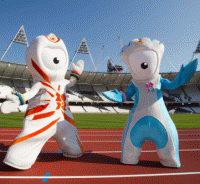 Fortunately the London 2012 Olympics are the most connected we've ever seen and there is a plethora of Apps designed to enhance your Olympic viewing experience. Some are even designed to provide a little distraction from the game themselves.
Here is a list of the best of the best:
The London 2012 Official Results App (iPhone, Free. Android, Free)
This Official App will present you with the medal tables, fixtures, event information and Olympic news. The App also provides a list of all athletes competing in the games complete with their bios, performances and background.
Medals 2012 (iPhone, Free. Android, Free)
This App does what it says on the tin: provides a running tally of the medals tables for each country. You can also see which events will generate medals on a daily basis and it will even send you alerts based on your preferred events.
London 2012 Join In (Android, Free. BlackBerry, Free, iPhone, Free)
This App does it all. If you're trying to get to an Olympic venue in London, it will direct you there. If you're trying to meet friends somewhere in London, it will allow you to track them on a map. If you're looking for maps of the venues, it has that too. On top of that you can see which events are on, and where.
Reuters Olympics London 2012 (iPhone, Free)
This App is a true multimedia delight allowing you to see hi-res pictures of athletes and events. You can read news stories, blog entries and even see information about the article writers and photographers reporting the stories. The App also contains full information about events including schedules, athlete profiles, results and medals tables.
BBC Olympics (Android, Free)
This App requires Flash to be installed and you must be running Android 2.2 or above. Once the App is installed you will have access to live commentary, news, stories, video highlights and 24 hour streaming coverage over both 3G and WiFi.
Samsung: Take Part 2012 (Android, Free)
If you're lucky enough to be at one of the events, then this App uses augmented reality and 3D for an incredible, immersive experience. You will need a top-end smartphone with a fast processor however. The App also allows you to compete with your friends and others worldwide.
Journey Pro (iPhone, Free. Android, Free)
If you're in London for the Olympics, then this very useful App will provide route information for all of London's main transport types including trains, tube lines and river services. Maps are also zoomable.
London Crowd (iPhone, 99 cents)
This clever App uses data from London CCTV cameras to create real-time maps which will show you pedestrian and vehicular traffic in and around the games sites. It will also let you view actual images from the cameras.
Official London 2012 Mobile Game (Android, 69p, iPhone, 69p)
If you want a bit of time out from the games themselves, then this Official App contains 9 games in one including shooting, archery, swimming and track & field). It even comes with exclusive access to the games venues; albeit virtual access.
---