Increase Your AdSense Earnings by using Automatic Ad Optimization
This article describes how I grew my site income by 113% and how you can increase yours by as much as 200%, using a free optimzation tool called Ezoic.

To give you a little background, I've run this site since 2013 and most of the income is from AdSense, in addition to a few affiliate products.

I've worked in digital marketing, website development and SEO for years so I was familiar with A/B split testing, but I never quite had the time or patience to properly test my ad layouts in order to squeeze more money out of the site.

For a while I did things manually; moving ad positions around and keeping track of performance on a spreadsheet. This is what I learned from this process:

1) It's really not much fun
2) My experiments weren't statistically valid
3) It had little to no effect on my revenue



Enter Ezoic
Then one day I was approached by a company called Ezoic, who explained how I could increase my revenue by 50% - 200% using their automated ad testing system. I was initially quite sceptical, so I proceeded to bombard them with questions.

I asked questions about the company, about how it would affect the user experience, SEO, site speed, bounce rate, hosting configuration and so on.

After several days and many emails going backwards and forwards, I realized that it did actually sound like a great tool. Part of me still had doubts until I could see proof, but I decided to give it a go.


The Proof
To my surprise, within a few weeks, my revenue literally doubled as the system tested hundreds of ad and page layouts.

The following chart tracks my advertising revenue from running Ezoic on my site. I've hidden the actual figures because I'd rather keep that private, but the trend line is 100% real and accurate.

The orange line is when I started using Ezoic: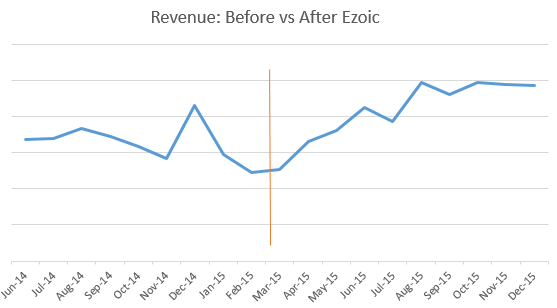 You might think the large bump in December means I was already starting to do well, but my traffic normally spikes around Christmas and it was actually on a downward trend before that. Unfortunately the December spike didn't happen in 2015, but that was down to tech issues, rather than their system not working properly.

What I quickly realised is that if you run a website and make money from any ad platform, then by failing to split test your ad positions, you're effectively leaving money on the table. And by far the easiest and quickest way you can do that, is using Ezoic.

Here is a quick summary of the benefits of using their testing system:


Benefits

- It's 100% free, with no catches
- Almost everyone sees a 50% or more improvement, and most are between 100-200%
- Your bounce rate, time on site and pages per visit are all optimized and improved
- You maintain full control of your site
- It works with all ad networks
- As part of the service, they provide a free CDN through Amazon's AWS
- If you don't have a mobile friendly site, the system automatically renders one on the fly
- It's completely safe for SEO (that's my day job, so trust me on this one)
- Integrates seamlessly with Cloudflare
- You can start with their "Ad Tester" then move up to the full "Layout Tester" (see below)


There are other testing tools which you could use, such as Optimizely and Visual Website Optimizer, however they are expensive, you would have to literally design every ad layout from scratch and you would lose many of the benefits above.

Thousands of sites now benefit from Ezoic and you're pretty much guaranteed to increase your ad earnings by a significant factor, so the whole thing is a bit of a no brainer.

If you're ready to give it a go, then head over to their home page to sign up to Ezoic now. We also have a more in-depth review at our sister site Digitool Review


For those that would like to learn more, I've tried to answer a few questions below:

Who Are They?
Founded by successful entrepreneur Dwayne Lafleur, Ezoic are based in San Diego, with another office in the UK. Their technology is viewed by around 200 million users per month and they are the largest service of their kind in the world. Furthermore, they are backed by Balderton Capital, one of the largest venue capital firms in the US, which shows there is considerable confidence in the product.


What Do They Offer?
Put simply, they are an automated ad split testing platform. The typical performance increase is currently 113%, but it can from 50% to 200%. And the best thing is that they're completely free.


So how do they make their money?
They generate their income by placing one ad at the bottom of your pages (see below for more info). They do have a couple of very low cost paid options if you prefer to remove the ad though.


For AdSense sites, doesn't that mean I lose one of my three slots?
I was worried about giving up one of my three AdSense slots, but Ezoic are a Google Certified AdSense Partner, which means you can have up to five standard ad slots on your site; that's in addition to Link Units and AdSense for Search. That in itself pretty much sold me, as it just means more potential for visitors to click on your ads.


How does it ad optimization work?
If you're familiar with conversion rate optimisation (CRO), A/B split testing or multivariate testing (MVT), then you'll probably have figured it out. But essentially Ezoic shows your visitors different ad layouts and determines which ones generate the most clicks and revenue.

Normally if you were to test, say three ads in 15 potential positions, you would need to manually test over 1 million designs, but their platform does that all automatically. It goes way beyond though, to also ensure user experience (bounce, time on site, pages per visit etc.) is also improved.

This is a screenshot of the Ad Testing Experiments dashboard for this site: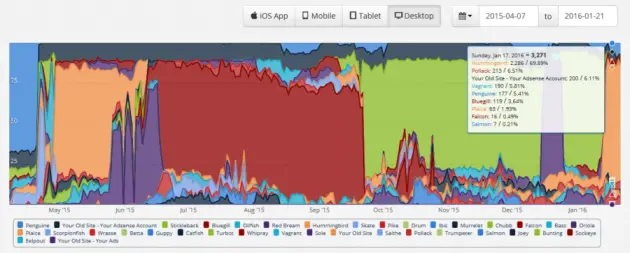 It shows how each layout variation is tested against dozens of other ones. When one experiment hits statistical significance and wins (in terms of ad revenue), the majority of traffic is then sent to that layout. Meanwhile other layouts are tested. If another layout wins, then the majority of traffic is sent there instead. So the system evolves and changes over time.


Can you go into more detail?
If you're technically inclined, but slightly mistrusting (as I was) they have a huge knowledgebase which covers everything including hosting, website optimisation explanations, SEO and so on.


How does the integration work?

There are two options:


1) Name servers

– The easiest and most effective method is to simply point your domain at their name servers. Ezoic then takes over, but you maintain full control of your site, files, database etc. This takes less than a minute and assumes you have your domain registrar login details, but won't be a problem for most website owners.


2) Code snippet

– If you don't have access to your domain or don't want to use the name server method, then you can insert some code into the of your site, in the same way that you would add the Google Analytics tracking code.



Will they control my site?
Not at all. Your domain points to their servers, which then points to your host, so you have full control of the system. From the Ezoic dashboard, you can also prioritise objectives such as: Revenue, Page Views, Time on Site and Bounce rate.


Once I start, can I stop?
Yes. The entire system can be disabled immediately from the Dashboard or for the more drastic approach, re-point your domain to your hosting company's name servers.


Can I control where the ads are placed?
Yes. There are two options:

1) The Layout Tester - Which this site runs. As I'm not too worried about the design of my site, I allow Ezoic to literally transform my entire design in order to split test the layout of my AdSense positions. During the setup phase their technicians ensured that all elements of my site were maintained when running the Ezoic versions. Also, you can always see the original by adding a parameter such as "?ez_orig=1" to your URLs.

Layout Tester is the method I would recommend if you don't mind losing control of your designs. Some designs won't look great, but you have to let the data speak for itself. Sometimes design that you may not like, have the best performances in terms of revenue and user experience.

2) The Ad Tester – This lets you choose specific ad positions and test any combination you can imagine. It's a good way to get started. Once you sign up, you will get an account manager to help you through the process.


What is their support like?
In one word: Fantastic. They really want to help clients produce results and they're constantly adding features and options to the Dashboard. You can even vote for which feature you would like next. Their account managers always respond quickly and nothing is too difficult for then. But more importantly, they solve any problems quickly and effectively.


Who's it for? Who's it not for?
If you generate revenue from ads on your website and you don't have the time or patience to manually split test their positions, then it's definitely for you.

If you have never heard of split testing, then it's definitely for you, as it makes the process so simple.

If you want to squeeze as much as you can out Adsense (or any other network), then it's definitely for you.

If you run an e-commerce or lead generation site where your own conversion rate is important, then you might want to be careful. If you do run ads, then I'd recommend you use the Ad Tester tool to carefully position ads so that it won't affect your conversion rate. The best thing would be to get in touch via their website and discuss your specific needs.


Has it affected your SEO?
Good question. And no it hasn't. That was only of my main concerns from the beginning.

Firstly, because Ezoic are an AdSense partner, they're very close to Google, so they have an advantage over any other tool in terms of gaining benefits from SEO.

Secondly, their knowledgebase makes it very clear that SEO is also one of their main concerns.

In the end, if their system caused a decrease in their client's organic traffic, they'd soon be out of business. Here is a chart of my organic traffic since I started using Ezoic. There is a slight decrease towards the end of 2015, but as mentioned above, I had some technical issues on the site unrelated to Ezoic:







Why are their no ads on this page?
Because I've disabled them! As I mentioned, you have full control and you can disable ads by page or sub-folder if you choose.


What might my site look like once the system is running?
Here is a very short video which shows how a site used to look and how it looked after using Ezoic. It also shows a peek into the possible EPMV (earnings per thousand visitors):




If you're ready to start improving the montetization of your site then, head over to Ezoic to start testing now.






Alternatively you can read some more articles about Adsense Optimisation below:
Google Adsense Revenue
Adsense Optimization
Adsense Tips
Adsense Alternative

---
---
{ezoic-ad-1}