Best Smartphone 2012?
We're into a New Year and you've probably seen enough of the 'Best Phones of 2011' reviews. So, here are our predictions for the Best Smartphones of 2012.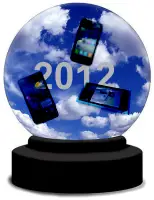 2012 will be the year of quad-core processors, Near Field Communication (NFC), 10-12 megapixel cameras, further roll out of 4G LTE, a shift towards 4.3 inch+ screens as standard and a greater shift into cloud-based services.
Often a look at history informs the future and with phones it is little different. Looking back at recent months we know that two phones have dominated 2011: the Apple iPhone 4S and the Samsung Galaxy S2. While the iPhone 4S has been one of the fastest and best selling phones on the market, the Galaxy S2 surpassed the iPhone in December 2011 sales and this trend looks set to continue.
Currently the Samsung Galaxy Nexus is by far the best Android phone in the market and is set to surpass sales of the Galaxy S2. We should also see the Samsung Galaxy S3 coming along soon. While nothing has been confirmed, it is widely expected that the SGS3 will be announced in the first few months of 2012. Expect to see a faster processor, more RAM, a better camera, super thin and light design, sharper screen and Ice Cream Sandwich. Depending on whether you're in the Android or Apple camp, the Galaxy S3 should be short listed for best phone of 2012 title when it arrives, but for now we place the Samsung Galaxy Nexus in top spot.
2011 was the year that the phone industry expected the launch of iPhone 5; but it wasn't to be. While no one can argue that the iPhone 4S is an impressive phone, it does consist of little more than some software updates, some hardware tweaks and the release of Siri's scarily accurate voice recognition to the world.
The iPhone 5 however is likely to provide a totally new design. Rumours are that the phone will consist of a teardrop chassis design. The rear of the device will be made from aluminium and a rubber join will connect to the front of the phone. Knowing Apple's secrecy, speculation is a little pointless at this stage, although it is almost certain that the screen size will be increased to around 4 inches. The iPhone 5 will undoubtedly sell like hotcakes to the Apple faithful and the iPhone 5 will certainly vie for top place as the best smartphone of 2012. Don't be surprised if you don't see it until the latter half however.
2011 saw the ubiquitous HTC begin to wane, albeit only slightly. While HTC continued their dizzying release cycle of new phones, there is evidence that they have lost ground to Samsung and Apple. On the other hand, 2012 should see HTC introduce the HTC Edge, perhaps the world's first quad-core phone. We will have to wait and see if this will compete with other top-end phones however. In the meantime, their HTC Rezound with Dr Dre's Beats audio is a massive seller and probably HTC's best smartphone.
Former leader of the phone world, Nokia, will continue their marriage to Microsoft and we can expect to see the top-of-the-range Nokia 900 early in 2012. While this potential flagship phone will cement Nokia's newfound success with Windows Phone, it is unlikely be universally accepted as the best phone of 2012 – the user base of Windows Phone users is just too small to complete with iOS and Android.
BlackBerry are unlikely to pull a rabbit out of their proverbial hat in 2012, however the BlackBerry 9900 has proven to be a great phone which has bought BlackBerry some time. Unfortunately time isn't on their side and delays to the release of their upcoming BlackBerry 10 OS aren't helpful to the Canadian company. If BlackBerry is your thing, then get your hands on a BlackBerry 9900 or BlackBerry Torch. Otherwise, it might be a long wait.
Motorola, having been swallowed by Google, have been quiet of late. While they have released the Droid Bionic and Droid RAZR, not much of substance is known about more phones just yet. There are rumours of a Motorola Jet and Motorola Bullet phone, however these are unconfirmed rumours, so we won't get excited just yet. The recently released Motorola Droid RAZR MAXX is certainly filling the gap until we wait for more models from Motorola.
For those itching to know more, you won't have to wait long. The Mobile World Congress (MWC) in Barcelona starts on 27th February and we're likely to see a number of new smartphone announcements.
In the meantime, most of us aren't prepared to wait for a phone that is months away, so here are the best phones available now. We'll continue to update the links below so you know which are the best phones available in both the US and UK markets.
Current Top Five Smartphones at Amazon Wireless (US Only)

Or

Shop at Wirefly

– America's #1 seller of cell phones and cell phone plans
Current Top Five Smartphones at Amazon.co.uk (UK Only)
One response to "Best Smartphone 2012?"
---