Facebook partners with HTC to produce a 'Buffy' smartphone
HTC and Facebook are working on a phone codenamed the Facebook 'Buffy' phone which will be built on Android, but with deep integration of Facebook's social networking services.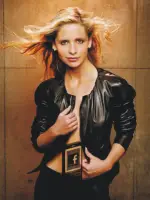 The Facebook Buffy phone is still expected to be 12-18 months away from release, but having courted both Samsung and HTC, Facebook chose the latter to produce the hardware. The software will be a 'fork' of Android, similar to Baidu's Yi operating system announced in September, but with support for HTML5 for Facebook applications.
To understand the evolution of the phone, we need to go back a year and a half to when Facebook setup a special operations team, housed inside their own dedicated, secure and exclusive building. The project was overseen by Chamath Palihapitiya who was VP, User Growth, Mobile & International at the time. A core team of design and development experts from several companies was formed, and the project was named Slayer; a hybrid of the words "Social Layer". For obvious reasons, the name was dropped and playing on the Slayer name, the phone became known as the Facebook Buffy phone, after Joss Whedon's Buffy the Vampire Slayer TV series.
Initially the objective was to build a Facebook phone from scratch, including industrial design, hardware build and software development, however the project became so resource hungry and unwieldy that the scope was later scaled back considerably. It was at this point that Facebook decided to outsource the hardware aspect and later chose HTC over Samsung. The project then took its current form with leadership from Facebook's Chief Technology Officer, Bret Taylor. Social networking will be deeply integrated into the forked Android system, as Taylor adds:  "Our mobile strategy is simple: We think every mobile device is better if it is deeply social."
As the Facebook Buffy is so far from a release date, it does beg the question: "why bother?" In 18 months time, if current trends continue, Android and iOS will be dominant, with either Windows Phone or Blackberry OS in third place. Facebook sees the smartphone market in a different way however.
Out 800 million users, the social networking goliath has 350 active mobile users and relationships with 475 global mobile operators. The Facebook application, in its various forms, is also one of the most-used apps on smartphones today. Rather than settling for a stand-alone app, it is thought that Facebook wants to take this two-steps further and fully integrate the social media service into the phone itself. Imagine your Contacts App, your Calendar App, your Camera App; all linked directly to Facebook through the phone's operating system.
The problem for Facebook is that, to an extent, Google does this already with Gmail, Google Calendar, Google Docs and Google + integration into Android. This means that Facebook is going into direct competition with Google, while using their operating system. In addition, the process of forking, where an existing operating system is significantly modified form the original, can present a number of other challenges. One of these is that in order to use Google's services, the OS must meet certain compatibility standards. While Facebook is likely to create many of their own services, this does mean that compatibility between Android applications and services may be compromised. It may also mean than the Buffy phone cannot use the Android app market place, which can be a major reason to purchase an Android phone in the first place.
These all pose major challenges to Facebook and with every passing month, the major players are strenghthening, while pushing smaller players and operating systems out. Even former giants like Nokia and Blackberry are struggling in the smartphone wars. With Facebook approaching 1 billion users and looking to go public within the next year or two, one thing is for sure though; they will soon have the financial and technical resources to take on the likes of Google, Apple and Samsung. We expect to hear more about this story in the not-too-distant future.
---