LG Prada 3.0 smartphone unveiled (but no release date yet)
LG and Prada have united again to produce the latest in their series of LG Prada Phones, named the LG Prada 3.0; tipped for a January release.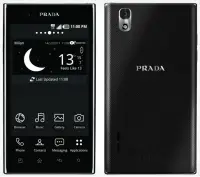 LG and Prada's relationship began in 2007 when they pioneered the idea of fashion-house phones with the release of the LG Prada 1.0. The hugely successful feature phone went on to sell over 1 million units and is now on permanent display in the New York City Museum of Modern Art and the Museum of Contemporary Art in Shanghai. Surprisingly, it was also the first mobile phone to be made with a touch screen.
The success was followed in 2008 with the release of the LG Prada which came with a slide-out QWERTY keyboard and support for an optional wristwatch to display caller information, text messages, call logs and alarms.
For their third rendition, the companies have again joined forces and collaborated on all aspects of the phone including packaging, casing, design and user interface. In contrast to many fashion-phones, the LG Prada 3.0 looks gorgeous and comes packed with some enviable specs rivalling many of the latest smartphones such as the Samsung Galaxy S2.
The phone includes a 1.0 GHz dual core processor, 4.3 inch 800×480 NOVA high brightness screen, dual band WiFi, 8 megapixel camera with 1080p HD video recording, 8Gb of storage memory and a 1,540mAh battery. It will also come equipped with NFC, which will be handy for that don't want the burden of carrying paper or plastic in their wallets or purses.
The LG Prada 3.0 comes with a skinned version of Android Gingerbread – 2.3.7 to be precise – which has been designed with a gorgeous monochrome look and feel. The two companies have created simple white icons for every App installed on the phone, plus some that haven't even been installed yet. They have also created matching widgets for things such as the clock and weather reports.
LG and Prada haven't completely missed the boat with Android 4.0 Ice Cream Sandwich however; as they have announced that an OS update for the phone is scheduled, although the date is currently unknown.
In terms of physical design, the phone is only 8.5mm deep (the same as the SGS2) but is further emphasised by LG's signature Floating Mass Technology which optically enhances the thinness of the phone. And to top this all of, you will find Prada's signature Saffiano pattern appearing on the reverse side of the phone.
Lastly, for those that think they have everything, LG / Prada will tempt you to keep spending with a range of matching accessories for the phone including docking station, Bluetooth headset, TV out / stand device and of course a matching Prada bag.
Currently there is no word on pricing or availability, but rumours are that the phone will launch in early 2012, possible as early as mid-January.
---