The Samsung Note – smartphone or tablet?
Berlin's IFA conference has uncovered another interesting device in the form of the Samsung Note. Why is it interesting? Because you'd be forgiven for thinking it's a tablet with its enormous 5.3" 1280 x 800 HD Super AMOLED screen.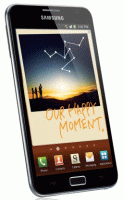 To further blur the boundary between smartphone and tablet, Samsung are placing the device in its own category rather than referring to it as a simple smartphone. To make the most of the large screen, Samsung have incorporated a 180 degree viewing angle allowing you to show off Youtube videos to friends as they stand around you in awe.
While only 9.65mm thick, the Note contains a 1.4Ghz dual core processor and its connectivity is looking towards the future with High Speed Packet Access (HSPA) and Long Term Access (LTE) connectivity support, which enable the device to work on 4G networks like Verizon, AT&T, or T-Mobile in the US.
If you're scratching your head wondering why Samsung have given the gadget the rather generic sounding model name of 'Note', then let us explain. Included inside the phone is what Samsung call the S Pen which is effectively a removable stylus. The S Pen is pressure sensitive and allows you to write notes or memos in any application. The memos can then be shared via ChatON (Samsung's chat service), email or text message. The stylus can also be used to create sketches and append them to existing images or videos, or simply come up with your own designs. Great for the budding artist on the boring tube or subway trip to the office.
Samsung have also released a developer SDK for the S Pen which it hopes will encourage developers to create a range of S Pen compatible apps and carve out a novel new niche for smartphone / tablet devices. In the meantime, the Note does include its own S Pen native apps in the form of a planner app and a note taking app.
An interesting point will be that the phone will run Android 2.3 Gingerbread rather than the Tablet oriented Android Honeycomb 3.0. Don't fret though dear smartphone user, Samsung have upgraded their custom TouchWiz skin which will allow multiple panes, meaning you can split content and apps in a similar fashion to tablet devices. This basically means you can view multiple apps at once, although admittedly you cannot interact when them simultaneously.
Despite all the power, the stylus and the next generation screen we can report the device weighs a comfortable 178 grams (or 6.3 ounces if you're living in the imperial world). They have even packed an 8Mp rear camera and 2Mp front-facing camera onto the handset. Samsung have not announced a release date as yet.
---