LG Optimus Vu announced; rivals the Samsung Galaxy Note
A week before the Mobile World Congress (MWC) event in Barcelona, LG have announced a new smartphone / tablet hyrid: the LG Optimus Vu.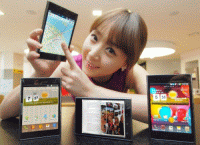 Following in the footsteps of the Samsung Galaxy Note, the LG Optimus Vu is aimed at the middle ground between a smartphone and a tablet. The Optimus Vu's screen is a 5 inch LCD with a 4:3 aspect ratio and 1024 x 768 pixels; perfect for watching TV and movies on. The screen also comes with in-plane switching (IPS) technology which is aimed at improving viewing angles.
With just a few days to go until the MWC, most manufacturers are holding back to announce their wares. LG, on the other hand, are continuing a recent trend of announcing products before the main event. The company also announced a 55-inch OLED TV before the Consumer Electronics Show in Las Vegas last in January.
The LG Optimus Vu will come with a 1.5GHz dual-core processor, 8 megapixel rear camera, 1.3 megapixel front camera, 4G LTE (for US customers), 32Gb of internal storage (no mentioned of external) and is only 8.5mm thin. LG have said the device will initially ship with Android 2.3 Gingerbread, however they state that Android 4.0 Ice Cream Sandwich will not be far away. Like the Samsung Galaxy Note, the device will come with a stylus pen for more accurate input, although for some strange reason LG have decided to call theirs the "Rubberdium pen".
If you're wondering about how much juice that massive screen will suck, then fret not because LG have decided to include a sizeable 2,080 mAh battery which should balance out the Optimus Vu's screen drain. Having said that, Samsung included a 2,500 mAh battery with the Galaxy Note, so it will be interesting to see details about talk and standby time when they are released.
The LG Optimus View will be available in Korea from March, however no release date or price has been mentioned for western markets. It is possible that LG will announce further price and release date information at the MWC in a few days time however.
---