Nokia's Best Phone to Date: The Nokia Lumia 900
Nokia has used Consumer Electronics Show (CES) 2012 to show off their upcoming Nokia Lumia 900 smartphone, running the Windows Phone operating system.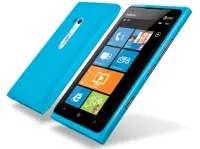 This isn't the first Nokia phone running Windows Phone – that title goes to the Nokia Lumia 800 – but it is the one with the highest specification and will probably be the most powerful Windows Phone on the market when it arrives.
It seems that "ecosystem" will be the buzzword of 2012 with Nokia Chief Executive Officer Stephen Elop talking about Microsoft's Windows Phone system: "The Lumia 900 is not only about a great device, but it's also about inspiring a great ecosystem," he said. "An ecosystem is more than just the apps. It's more than the device. It's more than the operating system."
Elop explained his belief that "the smartphone market has moved from being a battle of devices to a war of ecosystems", and that Windows Phone is the "third" ecosystem along with Apple and Android. That's optimistic talk when you have less than 5% market share, but Nokia will be hoping that as customers desert BlackBerry, their loss will be Nokia's gain.
In America, the Nokia Lumia 900 will be available exclusively on AT&T's LTE network. It will sport a 4.3 inch 800×480 curved screen with ClearBlack Super AMOLED display, run on a 1.4GHz Qualcomm Snapdragon single core processor and have 512 Mb of RAM.
As with most other high-end Nokia phones, the Lumia 900's camera will contain a Carl Zeiss lens, but Nokia have added dual-wide angle capability to the mix. The camera will shoot up to 8 megapixels, have a dual LED flash and will be capable of hi-res video capture at 720p / 30fps.
The Nokia Lumia 900 will be the first Nokia phone equipped with an LTE modem to take advantage of AT&T's high speed network. It is uncertain how this will affect battery life, however the phone does come with a powerful 1830 mAh battery and Nokia claims it will get 7 hours of talk time, 300 hours standby and survive all day without a charge. Unfortunately it will not come with Near Field Communication (NFC) technology as Elop explained at CES that this was a matter of priority. Perhaps they spent too long packing everything else into the phone and NFC dropped off their to-do list.
The body of the phone is created from a single polyurethane plastic mold, will be available in Black or Cyan and will weigh 159 grams (5.6 ounces).
As is typical with Nokia, no release date has been announced and when one finally does get announced it will undoubtedly be pushed back, but as it stands the company has said it will be on sale in "coming months", which presumably means Spring 2012. No word of a European release has been talked of. Also, no price has been spoken of, however Elop has said pricing would be "aggressive".
---
---
---
---