Windows Phone 8 video leaked, Q4 release date rumoured
The folks over at Pocketnow.com have had a promotional video about Windows Phone 8 leaked to them and there are some pretty impressive improvements planned.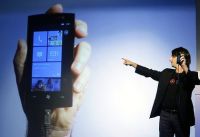 In the video, Microsoft vice-product and Windows Phone product manager Joe Belfiore reveals many significant improvements over the current Windows Phone version. The video is supposedly meant to get Microsoft partners excited about the new version of Windows Phone, but Microsoft will have equally made it to tease the phone industry and general public alike.
Codenamed Apollo, Windows Phone 8 aims to bring the operating system up-to-date with features of the other main phone operating systems, while making moves towards a more coherent ecosystem made up of Windows 8 and Windows Phone 8 running across phones, tablets, laptops and PCs.
Hardware changes
Windows Phone 8 will provide support for multi-core processors, new screen resolutions and removable microSD storage, which are all seen as limiting factors when comparing Android and iOS phones side-by-side. As should be expected, NFC will be supported, although Belfiore is calling this the "Wallet experience" which should make the concept of NFC more digestible to the man on the street. Belfiore goes on to explain that the Wallet experience will be controllable at the carrier level allowing branding or restrictions depending on your network or geographic location. Furthermore, the NFC tap-to-share will work across multiple platforms including tablets, desktops and laptops.
Improvements for Developers
Belfiore points out that Windows Phone 8 will not only share a similar look and feel to Windows 8, but many of the same components. This will be a vital step in attracting developers to the Windows Phone platform. If developers know they can create an App for Windows 8 and re-use most of their code to design the same App for Windows Phone 8, they are much more likely to invest in the learning curve necessary to start developing for Windows Phone.
Syncing
Microsoft says that they will scrap integration between Zune for desktop and phones, however they will provide dedicated syncing by another application; presumably similar to the old ActiveSync. Xbox will also have a companion App for the desktop, as will Skydrive. The latter will mean that your new phone will instantly have access to all files normally accessible on your desktop PC.
Apps
Microsoft says that at launch, rumoured to be Q4 2012, there will be 100,000 apps available worldwide. Windows Phone 8 will also provide native app support which means Apps developed for Android or iOS can be ported to Windows Phone 8 more easily. Skype will also be more deeply integrated into the OS which will be great news to those with friends of family overseas.
Camera
Another interesting idea is what Microsoft refers to as a Lens App. This essentially means that Microsoft will provide a basic App to control the camera. Phone manufacturers and carriers can then skin or tweak this, depending on which features they want to offer.
WiFi
A feature called DataSmart is planned which tries to more easily track data downloads and cut down on data use. The App will provide detailed information about data consumption, but more interestingly, it will automatically connect to any carrier owned WiFi networks when you're out and about. This will also integrate into Bing Maps and the Local Scout feature should be able to show you local WiFi hotspots, so if you're not inside one, then you can get to one.
Browser
In order to provide a faster browsing experience, Microsoft is planning to direct Internet Explorer 10 browser traffic to proxy servers to speed up the browsing experience. The traffic will be compressed at around 30% compression in order to accomplish this. If you have read anything about the Amazon Kindle Fire, this isn't always the case however. In fact some users have reported a general decrease in browser performance because of this technology. That's before we get on to privacy issues! Hopefully, like the Kindle Fire, there will be a way to disable this feature.
Entreprise Support
As BlackBerry is fighting to retain their business customers, Microsoft is undoubtedly finding ways to woo them towards their own ecosystem. To that end, Windows Phone 8 will add native BitLocker 128bit encryption to the OS. This is the same encryption that Microsoft uses on their desktop systems and means businesses can use proprietary software behind their corporate firewall which will run on Windows Phone 8. This is essential for businesses that need to safeguard emails and stored data on their staff smartphones.
Rather than announce small and incremental improvements to Windows Phone, Microsoft have proven that not only are they are serious about competing with Android and iOS, but they are reading trends and anticipating future needs for smartphone users. Providing they do not delay much past Q4 of 2012, this release of Windows Phone will be a much welcomed release in the smartphone world.
---