Baidu Changhong H5018 cloud based smartphone announced
Baidu, China's largest search engine, has unveiled its latest smartphone running the Baidu Cloud Smart Terminal operating system. The phone will be priced at under 1,000 yuan (USD$160).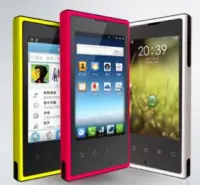 The Changhong H5018 represents Baidu's second smartphone; the first being the Dell Streak Pro D43 which was targeted more towards business people and the young & trendy. The Streak Pro was priced at around 3,000, meaning this newer, lower priced model takes aim squarely at the mass-market.
Technically the phone isn't Baidu's own as they have partnered with Chinese handset vendor Changhong in a similar way they did with the Dell Streak. Furthermore, the phone is made by Foxconn: the Chinese manufacturing giant who also churn out iPhones in their millions in rather controversial working conditions.
Although China's burgeoning middle class are seeing an increase in spending power, their wages are still significantly less than that of their western counterparts. Baidu has recognised this and have created their own low-cost smartphone to cater to this massive demographic. Also, only 15% of Chinese consumers currently use 3G, however analysts see this increasing significantly once the price of smartphones come down.
The Changhong H5018 will come with a 3.5 inch screen, 3 megapixel camera, 1,400 mAh battery, voice recognition software and will run the Baidu Cloud Smart Terminal operating system (originally called Baidu Yi). Baidu Cloud is somewhat unique in that it is a fork of Android and is primarily designed to run apps through the cloud, rather than from the phone itself.
This means that users will have internet based access to carrier services such as search, music and maps among other things. Each phone will also come with an impressive 100Gb of online storage.
Baidu have stated that the phone will be released in the "very near future", however no release date information is known at present. We will update this page should we receive a confirmed date.
---
---
---
---