HTC Edge: The world's first quad-core phone?
It's not official yet, but rumours of the world's first quad-core smartphone, the HTC Edge, have surfaced and of course it comes from those industrious folks at HTC.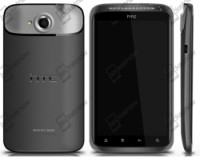 The HTC Edge is tipped to run the Tegra 3, which is a quad-core monster of a processor made by Nvidia. The Nvidia Tegra 3 chip contains four Cortex-A9 1.5Ghz processors plus one additional 'companion' core for low power use. The chip uses special logic so that the phone can step-down from the quad-cores to the companion core extremely quickly. This companion core then allows the phone to run in idle mode using little CPU power and therefore battery life. Nvidia claim that tasks such as playing music and even watching video content are possible in the powered-down, companion-core state.
The Nividia Tegra 3 chip has been delayed and isn't expected to be released until Q1 2012, so it stands to reason that the HTC Edge won't hit shelves until at least the first few months of 2012. Those considering upgrading to the new dual-core processor phones have some deciding to do; especially with the likes of the high-end HTC Rezound being announced just the other day.
The Edge comes with a massive 4.7 inch, 720 pixel screen, 1Gb RAM, 8 megapixel backlit camera with 28mm f/2.2 lens, and the casing should be around 10 millimetres thick. The phone is also expected to include Dr. Dre's Beat audio and should come with Bluetooth 4.0. HTC is also poised to offer a number of additional content services to their phones and the Edge could be the first device to be bundle with such goodies. They could include: HTC Listen music store, HTC Read bookstore, HTC Play gaming hub and HTC Watch movie portal.
It isn't known which version of Android the phone will ship with, although Android 4.0 Ice Cream Sandwich will be released in early 2012, so it seems likely the Edge will ship with this version of Android. Also, no official release dates have been announced for any reason.
Unless you're a hardcore gamer, we're still not entirely sure what you could do to your phone to need four processors, but don't be surprised if we hear about the Samsung Galaxy S4 and Motorola Droid 4 sometime soon.
---
{ezoic-ad-1}