Operating systems for phones – a state of the market summary
Home
>
Editorials
> Operating systems for phones – a state of the market summary
Posted by Bryan Hunter on 7th September 2011
Back in May I wrote an article asking how many is too many phone operating systems? At the time I counted 11 different phone operating systems and argued the pros and cons of having so many.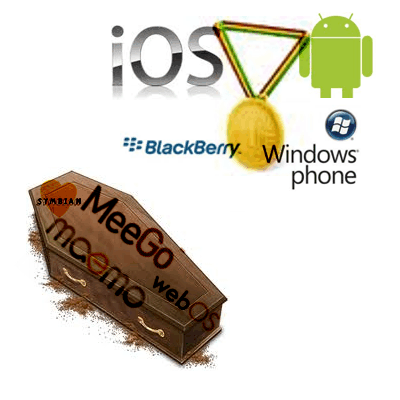 Since then, four of those are dead or on the way out, and two new operating systems have arrived. These days the news is usually dominated by the likes of Apple's iOS, Google's Android and RIM's Blackberry while Microsoft's Windows Phone is steadily gaining traction. But what about the rest? And how does each OS fit into the overall scheme of things? Will your OS still be around in a year's time? What alternatives are out there and what's around the corner?
This article tries to answer some these questions in the form of a state of the market summary.
Google Android – Prognosis: Fit and healthy
Android is the largest player in the phone operating system market with 42% share (Comscore, US market) going into the second quarter of 2011. With support from  large manufacturers like the mighty HTC who seem to invent a new phone every other day and others such as Samsung, Motorola, LG and Sony Ericsson, Android sits comfortably in first place in terms of market share. With a healthy version release cycle and a sound tablet OS strategy, Android looks set to keep number one spot in the near-term. Android's heels are being nipped by some by some international competition however, as we shall see below.
Apple iOS – Prognosis: Fit and healthy
iOS is currently the second largest player in the market with 27% (US) market share. What's incredible is that Apple has achieved this by only producing one phone per year on average. Their iOS interface is simple, but well executed. While Apple's 'walled garden' approach to distributing third party apps irks many users, for others it's a delight, meaning they don't have to worry about glitches, malware, viruses or apps damaging or slowing their phone down. Assuming Tim Cook proves a worthy successor to Steve Jobs, and there is every reason to believe he will, then Apple will remain one of the top three players for some time yet.
RIM Blackberry OS – Prognosis: Fighting for survival
Once a rising superstar of the smartphone world, Blackberry's market share has dropped off a cliff since February 2010 when they had 42% share of the US market. According to Comscore they now hold only 19% of the market. Put in context, the US market is still growing, which makes the figures even worse and represents a major strategic problem for Canadian based Research in Motion. On the bright side, their international sales grew 67% between March and May meaning they can offset some of their woes by an increasing market share in other markets. Hopes are that their new OS, Blackberry OS 7, will address a number of weaknesses including better touch screen support, faster browsing and HTML5 support, but it is hard to see how they can catch up to iOS and Android with it's current operating system.
Windows Phone – Prognosis: Ready for a fight
Microsoft's Windows Phone, recently a lone fighter, has teamed up with former heavyweight in phones, Nokia. Windows Phone's unique and innovative interface has received glowing reviews by many and their Mango update looks set to iron out many bugs and really take the platform to the next level. Microsoft has hired and despatched a large sales force to push the OS to hardware makers and already several manufacturers run WP7 on their phones. While their current market share is around 5%, analysts expect this to grow to 20% by 2015.
Symbian – Prognosis: Heading for retirement
Once the king of phone operating systems, Nokia's Symbian is slowly heading into retirement. Symbian just never reacted fast enough to the development of iOS and Android smartphones. Some would argue that it was an impossible fight – the OS wasn't designed for touchscreens and the platform lacked the dynamism needed to properly run the modern smartphone. Now that Nokia has joined forces with Microsoft, Symbian is slowing being phased out, although Nokia have promised to support the OS for some time yet.
MeeGo – Prognosis: On it's deathbed
Meego was originally a collaboration between Nokia and Intel, however Nokia's affair with Microsoft meant that Intel was left holding the divorce papers. Intel did promise to battle on, however recent rumours from Digitimes indicate that Intel is likely to throw in the towel and focus on hardware instead. While somewhat understandable (Intel are a chipmaker, not a OS developer after all) this is a loss to consumers because MeeGo really had promise. Nokia's N9, the first phone to run Meego was warmly received by reviewers and if Nokia had stuck with the OS, it could have had a bright future.
Samsung Bada – Prognosis: Identity crisis
A relative unknown, Bada is supposedly aimed at everything from low-end feature phones to high-end smartphones. The first version, however, was not even designed to multitask more than one app at a time (although Apple managed with that inadequacy for quite some time). While several big players including Twitter, EA, Gameloft and Capcom have offered support for the platform, the OS isn't likely to start selling in volumes approaching that of iOS and Android. Furthermore, Samsung is likely to focus more on it's high-end smartphones most of which run Android or Windows Phone.
HP WebOS – Prognosis: Effectively dead
WebOS was originally developed by Palm and later acquired by Hewlett Packard. The OS was praised by many techies as one of the best phone operating systems around. While the Palm Pre had its quirks and wasn't perfect in terms of hardware, WebOS was a pleasure to use and had serious potential. Unfortunately HP decided to shift their focus from the smartphone wars and in August 2011 they decided to discontinue all WebOS related hardware. WebOS may be bought out or licences, but it unlikely to ever reach the mass-market.
Maemo – Prognosis: Dead
Maemo, based on a Linux kernel (and my personal favourite), was used to run Nokia's internet tablets for many years. While they never reached high levels of sales, the tablets did have a bit of a geek following. Nokia's N900, running Maemo 5, was the first real contender for mass-market appeal. Unfortunately Nokia decided to shy away from marketing Maemo and instead decided to merge the Maemo project with Moblin to create MeeGo. As you will have read above, we all know where that went. It's a sad loss as both Maemo and MeeGo are great OSs, but appear to have been in the wrong place at the wrong time, supported by too little marketing effort.
Windows Mobile – Prognosis: Dead
With its horrible Start button and Windows-desktop-like menu it was just asking to be hated. It appeared to be a stripped down version of Windows, which itself struggled to run on many PCs, let alone on a phone without today's powerful processors. Again, an OS for the geeks, but at least Microsoft did finally drop the OS entirely and build a Phone OS from scratch in the form of Windows Phone 7. Windows Mobile no longer ships and now rests in peace in desk drawers around the world.
Alibaba Aliyun – Prognosis: Newborn
Back in July, Chinese e-commerce giant Alibaba announced that after 3 years of development they were releasing a cloud-based operating system that it hopes will rival Android (of course – they all say that). The OS comes with 20 cloud-based apps and every user will have access to over 100Gb of storage for music, photos, emails and so on. Interestingly, the OS can also run Android apps which will perhaps create a shortcut to growth as customers won't be so hesitant to adopt an OS without an existing app market.
Baidu Yi – Prognosis: A bun in the oven
As I blogged about recently China's largest search engine provider, Baidu, has taken Google's Android, stripped out almost everything related to Google and created its own set of applications. The result is an OS called Baidu Yi which will probably do exceedingly well in the Chinese and possibly other Asian markets. Furthermore, the PC maker Dell has joined forces with Baidu to create phones and tablets for both the Chinese and international markets. While I can't see how a Chinese Android-like OS will catch on when western markets which already have Google Android, time will tell. Once thing is for sure…with the sheer size and growth of the Chinese market, you will hear more about Baidu Yi.
Chrome OS – Prognosis: A twinkle in its father's eye
While we're on the subject of clouds OSs, there have been quiet murmurings that Google has plans for a cloud based operating system for phones. Some have said the phone may arrive mid-2012, but as yet nothing concrete has been confirmed. However, with two Chinese giants launching their own Cloud phones, Google still has the resources and nimbleness to respond to such far-eastern threats. With concerns over security, network constraints, development costs and bandwidth / speed issues it's hard to say whether cloud-based phones will really take off though.
Where this is all heading is probably up to someone more expert than me, but whatever direction it's going it seems that we've only just crossed the start line and it's a Darwinian race for survival of the fittest. Or perhaps the player with the best marketing department.
Bryan is the founder of Phone Tips and Tricks which provides hundreds of tips, tricks and guides for smartphone users. While he isn't updating the website and blogging about phone related news, he will usually be found tinkering on his own wonder gadget.
One response to "Operating systems for phones – a state of the market summary"
---