Massive 50%-off Memorial Day sale at ZAGG!
We have just had word from ZAGG that they will be holding a massive sale for the US's Memorial Day with almost every product being sold at 50% off!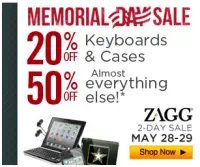 The sale will run all day on Monday 28th and Tuesday 29th May and there is no need for any voucher or coupon codes. Simply visit their website on these days for the specials.
The sale will include ZAGG's invisibleSHEILD screen protectors, ZAGGskins, LEATHERskins and most accessories.
Certain products such as tablet keyboards and the ZAGGfolio (the number 1 selling iPad accessory) will be discounted at 20%.
If you have never tried a ZAGG product, then this weekend is a good time to give them a go. And if you don't have a screen protector or a case, then it is something you really should consider in order to protect your device.
Simply head to their website on Monday or Tuesday and pick on some great deals.
---