Lava Xolo X900: Intel-inside smartphone, now on sale
The world's first Intel-powered smartphone, the Lava Xolo X900, is going on sale today in India, powered by an Atom Z2460 SoC processor.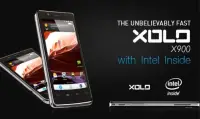 It has been a long time coming, but the wait is over for those wanting an Intel-powerd smartphone, and Intel's collaboration with India's Lava is today bearing fruits in the form of the Xolo X900.
For those wanting specifics, the smartphone is powered by an Intel Medfield Atom Z2460 SoC processor which runs a single-core 1.6GHz Saltwell CPU and includes Hyper-Threading, a PowerVR SGX540 GPU running at 400MHz and 32 bit Dual channel LPDDR2 memory.
The phone also features a 4.03 inch LCD (non-AMOLED) screen with 1024×600 resolution and an 8 megapixel camera with an added 10fps burst-mode; allowing for an impressive 10 pictures per second. The camera is also capable of 1080p HD video recording and is complimented by a 1.3 megapixel front-facing camera. The phone also comes with 16Gb of internal storage and 1Gb of RAM. In terms of connectivity, the Xolo X900 carries HSPA+ connectivity, a NFC chip and HDMI out for full HD video output
The front of the phone comprises of a glossy finish but the overall feel has been described as a tiny bit chunky, with an 11 gram width and weighing 127 grams. It is, however powered by a sizable 1460 mAh battery, which should provide a solid day worth of use.
Early reports suggested that full HD videos and 3D games run effortlessly with no hint of lag. This is crucial as Intel attempts to make headway into a world that currently sees 98% of smartphones use an ARM processor, rather than an Intel one commonly found in desktop PCs and laptops.
While smartphones are starting to ship with Android 4.0 Ice Cream Sandwich, unfortunately Xolo X900 users will have to wait a little as the phone only runs Android 2.3 Gingerbread, although it has been confirmed that an ICS update is on its way 'in coming weeks' according to Lava.
The Lava Xolo X900 is priced at Rs. 22,000 which is around USD$420 or 320 Euros. The phone can be purchased from Lava at Xolo.in or from India's Croma online shopping site.
---