Samsung Galaxy SIII release date and pre-order deals
At an exclusive Mobile Unpacked event in London's Oxford Street yesterday, the Samsung Galaxy SIII was finally launched to the world.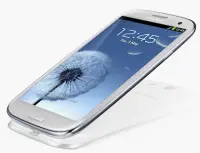 The importance of the event, not just to the smartphone world, but to the very survival of certain hardware manufacturers (you know who you are), is justifiable. In the past 18 months Samsung have gone from an also-ran in the smartphone world to the most dominant player on the back of their Galaxy range of smartphones. But it's their flagship Samsung Galaxy S2 that has propelled them to that position. Now the Samsung Galaxy SIII is set to further cement that status and push their sales figures even higher.
Upon looking at the specifications below it is clear that the SGSIII isn't a major revolution in smartphone technology, but rather a combining of the best of the best; bringing together top of the range features, the latest Android operating system, interface improvements, thin and lightweight form-factor, and beautiful design. Simply put: it's the whole package.
The Samsung Galaxy SIII's specifications are as follows:
Android 4.0 Ice Cream Sandwich operating system
Samsung 1.4GHz Exynos 4 Cortex-A9 quad-core processor
4.8 inch, 1280 x 720-pixel HD Super AMOLED screen with Gorilla Glass 2 protection
8 megapixel camera with LED flash, 1080p HD video recording
1.9 front-facing megapixel camera
16GB, 32GB, 64GB of expandable memory
2,100 mAh,removable
Available in Marble White and Pebble Blue
Physical home key + 2 capacitive options buttons
In terms of physical dimensions the Galaxy SIII is 5.4 inches tall x 2.8 inches wide x 0.34 inch thick making it slightly larger than the Galaxy S2, but no excessively so. Weighing in at a lightweight 133 grams, Samsung have also managed to cram in a massive 2,100 mAh removable battery to keep it powered for a whole day at average to above-average use.
It doesn't stop there though as Samsung have included a total of seven sensors, including an accelerometer, RGB light sensor, proximity sensor, digital compass, gyroscope, barometer and NFC (for countries with such networks).
On top of all this, Samsung have squeezed in a handful of very useful features into their TouchWiz interface, including "Smart Stay" which tracks your eyes and dims the screen when you aren't looking at it, "S Voice" which is effectively a Samsung version of Apple's Siri and "PopUp Play" which lets you watch videos in a tiny window while you are busy browsing other sites.
Fortunately we don't have long to wait as the Samsung Galaxy SIII will be available on 29th May in Europe and the US LTE version will begin roll out in June.
And for our UK readers that don't want to miss out, we have some great free pre-order deals from Phone4U and the Carphone Warehouse, as follows:
Carphone Warehouse:
FREE on Vodafone 24 month contract
600 minutes, unlimited texts, 1Gb data
FREE 32Gb Memory Card, Screen Protector and In-Car Charger
£36.00 per month
Pre-order the Samsung Galaxy SIII on Vodafone
FREE on Orange 24 month contract
600 minutes, unlimited texts, 1Gb data
FREE 32Gb Memory Card, Screen Protector and In-Car Charger
£36.00 per month
Pre-order the Samsung Galaxy SIII on Orange
Phones4U:
FREE on Vodafone 24 month contract
1200 minutes, 3000 texts, 500Mb data
Premium Accessory Pack worth over £50
£36.00 per month
Pre-order the Samsung Galaxy SIII in Blue
Pre-order the Samsung Galaxy SIII in White
FREE on Vodafone 24 month contract
600 minutes, unlimited texts, 1Gb data
Premium Accessory Pack worth over £50
£36.00 per month
Pre-order the Samsung Galaxy SIII in Blue
Pre-order the Samsung Galaxy SIII in White
---